Personalised photo ceramic tiles
Sizes: 11 cm (width) x 11 cm (length)
Without minimum quantity
High quality and long-lasting tiles.
Best material for indoor use.
Includes support foot.
ID: #5427
Reviews with images







---

Why choose a photo tile
Something that we at Wanapix know all too well is that there are many ways to personalise a product. Actually it's possible to personalise anything you can think of: Whether it being blankets, bottles, boxes, toiletry bags, lighters, diaries... So, why make a picture tile?
You see, every lover of decorations knows that a good decoration is made up of small details that make the difference and, having a personalised tile at home, in any part of it, will give a special and original touch to your home. It is not the same to see a photo in a frame as it is to see it on a different support, such as our photo tiles. We recommend you to take a look at our personalised picture tiles, specially designed for interiors. They are of high quality and their material makes them last for a very long time while the print is clear and bright.
As for customisation, don't worry: on our website you will find different designs that you can customise to your liking, although you can always start from scratch and make your own tile. People remember what has caught our attention, so if you are an artist, having tiles with your drawings is an original and different way to show the world your art!
You can personalise them in a thousand ways, either with photos, phrases or even texts, because at Wanapix we know that variety is the spice of life. What's more, we have different sizes and shapes to suit all tastes, ideas and needs, so you're sure to find one that suits you!
What can I put on a tile
Custom tiles are an additional decorative element in your home. They include a support stand so that you can comfortably place them on your table or bookcase. Some people also hang them on the wall... there are so many options! There are so many options! Here are some of the ones that come to mind.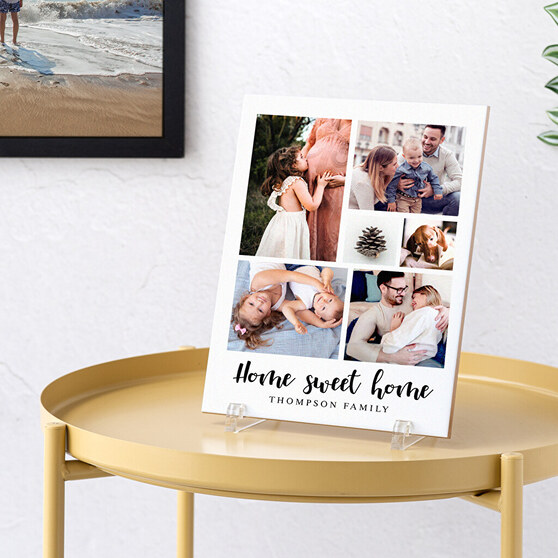 Try personalising it with a photo of your first holiday with your partner, adding a phrase that only you and your partner can understand. Or maybe you prefer to give it to the best grandmother in the world, and personalise it with a photo of your daughter with her. If you have a family home, in a village for example, maybe you would like to hang the personalised tile with the family crest or your surname. What about personalising a tile with your company logo or information? For example, if you are a dentist, you can put it in the reception area of the surgery with your name, your profession and your contact details, to give a professional touch to the room. Finally, if you are someone who likes to read motivational phrases when you go out or come home, you can personalise one with a phrase that you love or that makes you start the day with energy. And if you are a believer, a tile with the typical phrase "God bless this house" and a picture of your family never hurts!
Surely you already get the idea that having or giving a personalised tile is an original way of having a different photo frame and, thanks to its material, its resolution is very vivid and bright. Undoubtedly, a photo frame that will not go unnoticed.
How to clean tiles
If you were afraid that it would be a delicate object to clean, you can rest assured. The tile does not require too much effort to clean. You can wipe it with a damp cloth from time to time to preserve its vivid colours. That's all there is to it!
Oh, and before we forget: it is important that the tiles are kept indoors for better preservation.
What do you think, have we convinced you to get one of our personalised tiles yet? We hope so!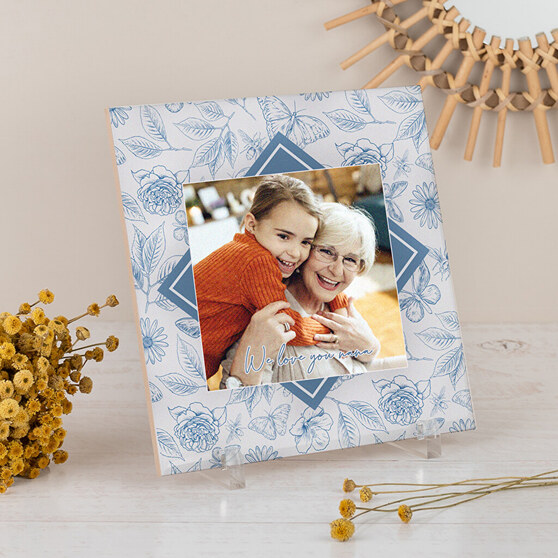 Tags of Photo ceramic tiles