Personalised wine glasses
Select an option: Wine glass
Sizes: 8,5ø (width) x 22 cm (length)
Without minimum quantity
Capacity: 45 cl. Material: Bohemian glass.
Personalisation method: engraving.
Ecological: lead free. High durability.
Dishwasher safe.
ID: #16417
Reviews with images








---

Engraved wine glasses
If you are a wine lover you are in the right place. Wine is a perfect beverage to drink alone or accompanied, and if a quiet dinner accompanied by a good wine tastes good, with a personalised wine glass, personalised with your name or a phrase that motivates you, it is going to be even better.
Wine glasses are a fine and delicate detail with which to make a good impression. They are perfect to celebrate the most special occasions, such as an anniversary, a wedding, or simply a romantic and quiet dinner at home. If you are or know someone who is a wine lover and you want to give them a gift that will be a sure hit, these glasses are, without a doubt, what you were looking for.
These glasses have a capacity of 45 cl. and are made of Bohemia glass. It is a glass that will adapt perfectly to your favourite wines, so you can enjoy them in a unique and special way. It is a tall glass, with a mouth slightly narrower than its body and with a long and very elegant stem, it will make your wine tastings exquisite.
The personalisation of what, from now on, will be your favourite wine glass, is done by laser engraving, which erodes the glass and leaves the design you have created permanently marked.
They are dishwasher safe so you won't have to worry about always having them looking as good as new. Those lunches and dinners with friends and family will be even better with your new personalised wine glasses. It's time to celebrate and at Wanapix we want you to do it in the best way.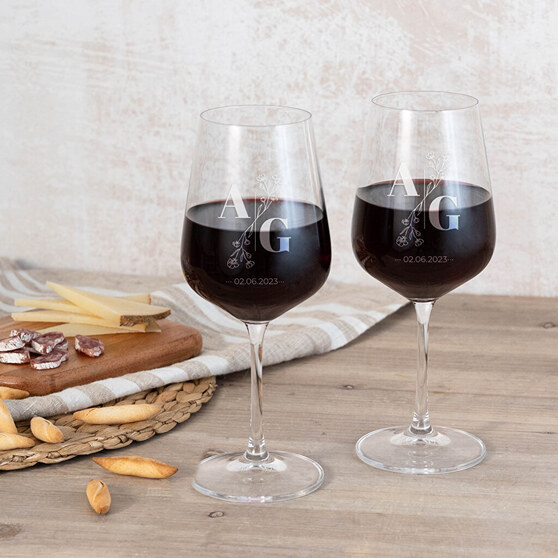 Create the best wine glass for that special occasion
As important as choosing a good wine is also choosing the right container to enjoy it in. With these wine glasses you are sure to get it right. And not only is it perfect on its own, but through personalisation your new wine glass will be unique and irreplaceable.
In this section you will find a lot of pre-designed templates that you can modify to make them completely to your taste or to the taste of the person you are going to give it to. Designs with phrases, special dates or even with your initials, a glass just for you. You can also add other details such as simple images, hearts, if you want to give it a romantic touch or any other kind of decoration that you would like to make it even more special.
If you don't find any design that fits what you had in mind, don't worry, with our online editor you can create your personalised wine glass from scratch, easily and quickly. In the blink of an eye the ideal personalisation for your glass will be ready.
Give a personalised wine glass as a gift and make a unique gift
Many times we don't know what to give as a gift, we try to find the most appropriate gift for that person and we find it almost impossible. Many times we even buy something random without really knowing if they are going to like it. We want to give you the best option. Giving an engraved wine glass as a gift is a perfect detail for the most special and unique occasions, those for which it is worth toasting. There are countless occasions on which to give an engraved wine glass as a gift: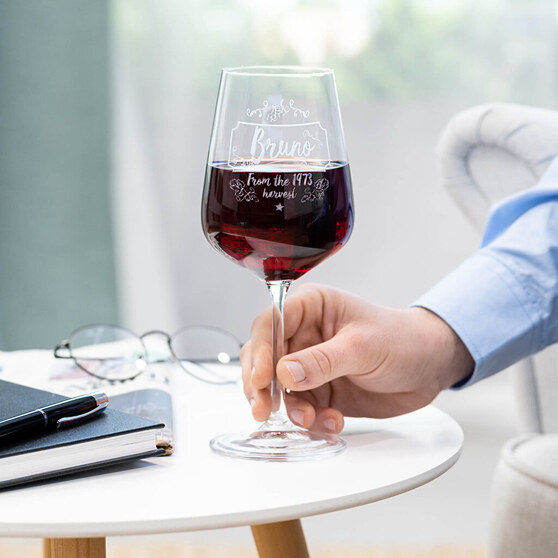 Gift for a couple's anniversary: each year together adds moments of happiness and others not so much, but in the end they always compensate for the good ones and we must find a thousand reasons to be able to toast and celebrate together. If you want to have a special time with your partner, prepare a romantic dinner and surprise him or her with these personalised wine glasses. Success is guaranteed.
Celebration of a retirement: most retirees like to have a good glass of wine. If you have a retirement celebration of someone special nearby, with this detail you will dazzle them for sure.
Birthday: surely you have a friend or relative who is a wine lover and a gift like this would surely surprise them. Now you can personalise a wine glass with their name, an emotional phrase or even a funny one such as: "drinking wine is cool, but drinking with "Antonio" is better. You are sure to find the ideal personalisation for the person you are going to give it to.
Wedding gift: if you know a future bride and groom who are wine lovers, giving them some personalised wine glasses for one of the best days of their lives will be a detail they will love. Besides, if you know the date of the wedding, you can put their names and the date of that special day on the glass. They will be able to enjoy the banquet with their new personalised glasses and keep them as a souvenir for all their anniversaries. There is nothing better than glasses that commemorate the date on which they tied the knot.

Do you already know how you are going to personalise your new wine glasses? Create a unique design for yourself or as a gift and we'll take care of the rest.