Personalised Tin Box with Sweets and Chocolates
Sizes: 16,3 cm (width) x 15,7 cm (length) x 5 cm (depth)
Without minimum quantity
Aluminium tin box, in white, with a customisable lid.
Assorted sweets, Lindt milk chocolate chocolates, or assorted Mini Toblerone chocolates.
Includes a blank greeting card.

Box capacity: 800 ml.

ID: #16374
Reviews with images





---

Personalised tin boxes with Sweets and Chocolates
At any time of the year, giving a gift is one of the most special acts for both the giver and the receiver of the gift. This means that you need to think carefully about what the person likes, to make sure that the person will love the personalised and unique gift. It is important to give something nice, something that appeals to the eye and when it is something personal, it always adds value as it makes the gift a little less traditional since it is a personal gift that is specially made for the person.
That's why our personalised tin boxes with sweets and chocolates are beautiful and stylish. We are sure that anyone who receives a box of chocolates will love the gift and of course the delicious chocolates.
We have tin boxes that you can personalise, according to your wishes either from the designs we offer or by creating your own, and in terms of the contents of the box, you can choose from 3 different options so that the person receiving the gift gets something delicious that he/she likes. You can choose between an assortment of mini Toblerone (22 pieces), an assortment of sweets (like 2 lollipops, 2 candy necklaces, 4 gums, 4 caramel sticks and 20 wine gums) or an assortment of milk chocolate by the famous Lindt chocolate (22 pieces) brand. We can't decide which of the three tastes the best or is the tastiest most spectacular, which is why we're sure you'll want to try them all too(we already have haha). When you order your personalised candy tin box, a little card in white is also included so you can write a little message or dedication to make the gift even more personal.
It's completely fine to give a box of chocolates as a gift, but... If you give a personalised box of chocolates, the person will be even happier with the gift as it will of course be personalised.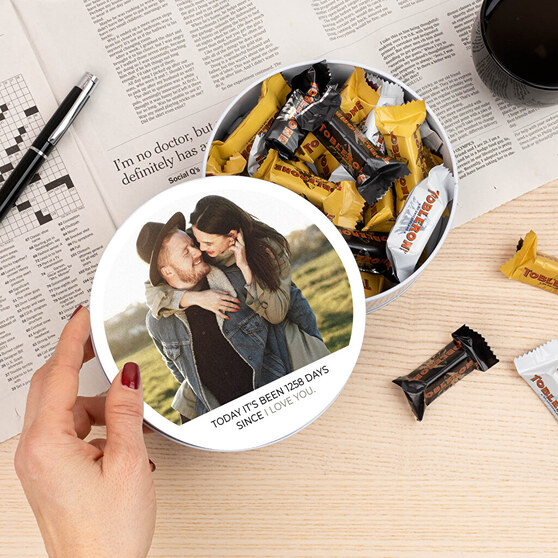 This tin box is also ideal because you can use it to store anything, once you've eaten all the sweets and chocolates. It can be used for something practical, like a jewellery tin box, a first aid kit or a sewing tin box.
Personalise the perfect tin box for yourself or to give as a gift
In this section you'll find lots of designs created by and for you, so it's easy to personalise the cutest and most beautiful tin box you've ever seen, whether it's for yourself or as a gift for someone special.
There are an infinite number of designs that you can personalise with a beautiful and touching phrase, or perhaps you prefer a funny phrase or a special photo that you want to have immeasurable sentimental value. You can choose any option to personalise these beautiful tin boxes with sweets.
And if you don't find a design that matches what you had in mind, don't worry, you can also create your own design from scratch, the designs you create have an even more special charm and the best part is that there will never ever be two tin boxes, with the same design. This means that you get a unique tin box.
You can also choose from three different shapes of tins. The heart-shaped box is for the more romantic person. The circular and rectangular, is for those who prefer something more discreet and classic. Either way, you'll add a perfect and personal touch to the tin box to suit the person you want to gift it to.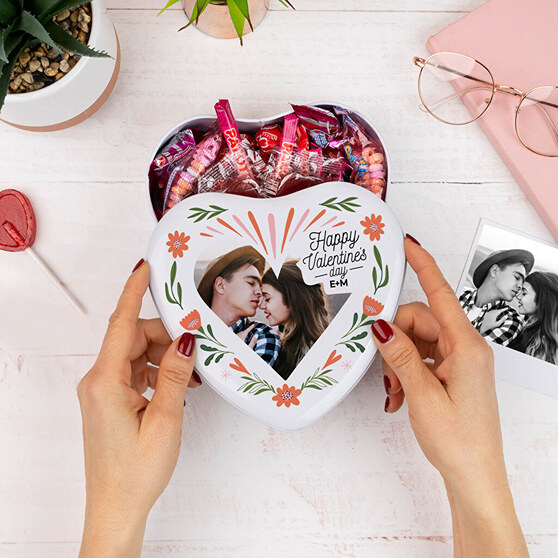 Give a personalised tin of sweets as a gift for any occasion
It's always a great time to sweeten someone's life, and especially if it's a special person to you. Our aluminum boxes are perfect for any occasion. Whether it's a birthday, a couple's anniversary, Valentine's Day, Christmas, Father's Day, Mother's Day, as an April Fool, etc.
Imagine a Valentine's Day with a personalised tin with your favourite photos, chocolates or sweets inside and a small card with a dedication from your partner - it sounds wonderful and romantic.
Or on Mother's Day a personalised tin box with photos of the kids and their favourite chocolate or sweets inside and a little note written by the kids? Could it get any sweeter with such a personal message?
Now just let your imagination run wild and create the perfect tin box for the occasion you have in mind, and we'll make sure it's looking perfect. We're sure that anyone will like this gift full of chocolate or sweets.. Because who doesn't like sweets?
Information about ingredients and allergens
Mini Toblerone Pack
Ingredients: Milk chocolate (sugar, milk, cocoa butter, chocolate, milk fat, soya lecithin, an emulsifier, vanillin which is an artificial flavour), sugar, honey, almonds, invert sugar, egg white. Cocoa: 28% minimum.
Allergens: contains milk, soya, almonds and egg.
Lindt Milk Chocolate Pack
Ingredients: Sugar, vegetable fats (coconut, palm kernel), cocoa butter, cocoa mass, milk powder, skimmed milk powder, lactose, milk fat, emulsifier (soya lecithin), barley malt extract, flavourings, vanilla. Contains cocoa: minimum 31%.
Allergens: contains milk, soya lecithin and may contain hazelnuts and almonds.
Pack of sweets
Varied ingredients, it is a pack with different types and brands of sweets. Contact us for more information.
Allergens: Gluten free..
Tags of Tin Box with Sweets and Chocolates