Personalised metal car keyring
Sizes: 2,8 cm (width) x 5 cm (length) x 0,5 cm (thickness)
Without minimum quantity
Material: metallic.
Personalised on 1 side.
ID: #17022

Personalised metal keyring in the shape of a car
The most representative keyring for your car keys: a car-shaped keyring, that's right! This is an ideal item for the most ardent drivers, which you can personalise on one side to include the photo, phrase or design of your choice, so that everyone knows who those keys belong to!
We all use keyrings in our daily lives, even several of them. Nowadays, the offer is wide and original, as we can see with this car-shaped keyring that can be personalised with whatever you like.
Personalise the keyring and make it unique
Try adding a photo of your family for Father's or Mother's Day, a photo of the person with their car, or perhaps a little phrase to remind them how much you love them and to be careful at the wheel. The possibilities are endless! It is also an ideal item for merchandising and companies, as the more units, the more economical it will be.
Once upon a time there was a person who was glued to a steering wheel
We all know someone who is difficult to surprise and someone who likes to drive. If that person has both of these characteristics, here is the solution! Let everyone know which keys are theirs.
This is an ideal way to surprise someone and get it right, as well as being an economical, long-lasting and timeless product - an all-rounder! Try adding a special photo, or a phrase that makes you both laugh. We also have preconceived designs in our online editor, which is very intuitive and will make it very easy for you to make that design you had in mind come true, we are sure they will love it!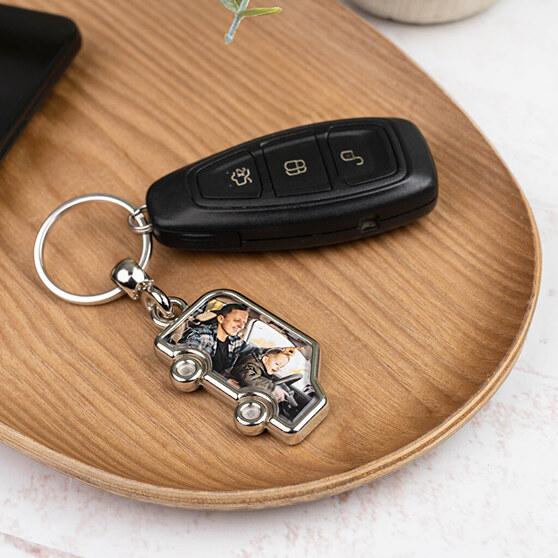 Tags of Metal car keyring