Engraved keyring with tools
Sizes: 2,5ø cm (width) x 0,1 cm (thickness)
Without minimum quantity
Material: stainless steel.
Can be personalised by engraving on the round plate.
Includes 3 miniature tools: hammer, spanner, and screwdriver.
Each tool measures 2.5 cm (approx.).
Engraved keyring with name and tools
If you like to take care of the smallest details, you've come to the right place. Do you have to give a special gift to someone and you don't know what to give? With this mini tool keyring you will surprise whoever you want.
It is a beautiful engraved keyring made of stainless steel. It includes 3 miniature tools: a hammer, a spanner and a screwdriver. The perfect gift for the handyman in your home. Or for those who love DIY. Each tool measures approximately 2.5 cm, so it is the perfect size to carry it anywhere, whether in your hand, bag or pocket, in a comfortable and easy way.
The personalisation is done by engraving on the round badge that is also included on the keyring. No matter what a gift is special. However, if they are personalised they are even more special. You only have to think about who you want to give it to, and then personalise it with a photo, name a phrase or something else. You're definitely going to surprise with this mechanic keyring
It is also perfect as a promotional gift and as a corporate gift, for your most special clients. You can personalise a keyring with the company logo and it is sure to be a gift that they will use every day. It will not be the typical products that end up in a drawer, as its design is so special that makes it unique.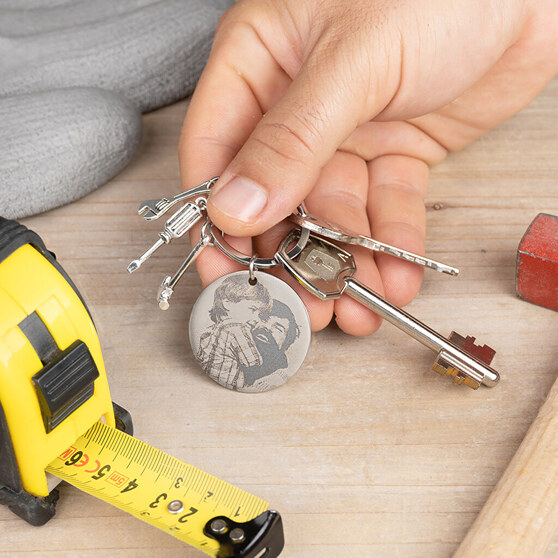 Personalise the perfect engraved keyring for you or to give as a gift
In this section you will find a lot of pre-designed templates, which you can modify to your liking, to make them completely yours. All you have to do is think about what occasion you want to use it for or who you want to give it to, create a beautiful design and we'll make sure it's perfect.
And if you don't find a design that fits what you need, don't worry. You can create the design of your engraved keyring with tools from scratch with our editor. In just a few clicks, you'll get a design that's tailor-made for you.
The charm of personalised gifts is that no two will be exactly the same, as they are customised by and for you. Do you already know how you are going to personalise your new keyring? Or would you prefer to have a special gift for someone? Let your imagination run wild and we'll make sure it's perfect.
Tags of Engraved keyring with tools