Sizes: 3,8 cm (width) x 12,1 cm (length) x 2,7 cm (depth)
Without minimum quantity
The fragrance will remind you of Invictus by Paco Rabanne (men) and La vie est belle by Lancôme (women).
Bottle material: glass. Customisation method: engraving.
Olfactory family: Floral Fruity Gourmand (women) / Woody Aquatic (men).
ID: #17107
Reviews with images








---

Personalised perfume bottle
A scent designed for a special person: our engraved perfume bottles are the perfect gift for a special occasion! They are non-refillable glass bottles with spray nozzle, from which you can choose the size (50 ml and 100 ml) and the perfume (male or female). Don't worry: we've already chosen the best perfumes on the market, so you can be sure it's a sure hit.
The bottle is personalised by laser engraving on the glass, and you can choose between different designs that we propose or personalise it yourself from scratch. A world of possibilities to intoxicate you with a magnificent scent!
Olfactory family
Feminine perfume:
Olfactory Family: Floral Fruity Gourmand
Top notes: Blackcurrant and pear
Heart notes: Iris, jasmine and orange blossom blossom
Base notes: Praline, vanilla, patchouli and tonka bean
Masculine fragrance:
Olfactory family: Woody Aquatic
Top notes: Mandarin, marine notes and grapefruit
Heart notes: Jasmine and bay leaf
Base notes: Gaiac wood, patchouli, oakmoss and ambergris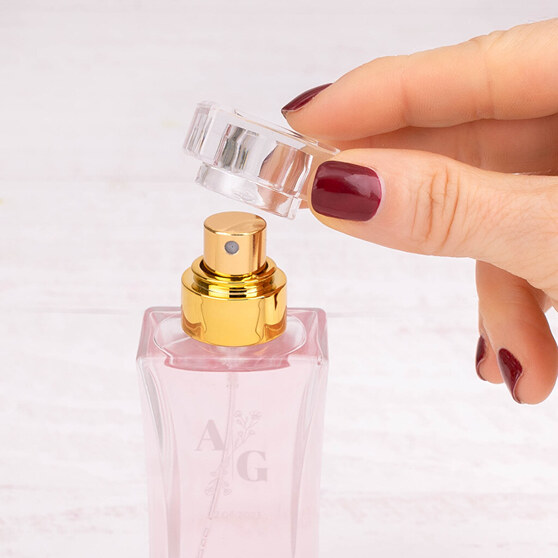 Give the gift of a scent to accompany everyday life.
We store smells in our brains and, when we smell a particular fragrance, it teleports us to the right places, special moments and specific people in the blink of an eye. Knowing all this... What better idea than to give a personalised bottle of perfume as a gift?
When we want to give something to someone, we always try to hit the nail on the head and make sure that the gift will please them and be useful in their everyday life. No one wants their gift to be left gathering dust at the top of a shelf or hidden at the bottom of a drawer! Finding the right choice can be an odyssey, but there's no need to worry: at Wanapix we offer you a wide range of original gifts, including this personalised perfume bottle!
Perfume is an essential accessory in our daily routine, so by choosing a personalised bottle you can be sure that the gift will be useful. What's more, the key is that it's a personalised product: add a nice phrase, initials, a logo or a design that you like. Not only will it be a product he will use every day, but it will also remind him of you.
An ideal gift for any occasion
This is a very versatile gift, perfect for any occasion:
Father's Day or Mother's Day: make mum and dad remember you every time they smell these fragrances! "For the best dad in the world" or "Mum, we love you! Signed, your daughters"... imagine how nice these phrases would look on the bottles next to your names or your children's names!
Birthdays: if you don't know what to give your friend, partner, cousin... and you know they love perfumes, look no further! Choose a phrase like "Happy 25th, Amanda. Your colleagues love you", just great!
Valentine's Day: no need for words, right? Valentine's Day is the perfect time to give her a perfume with your initials and the date you started dating. She's sure to love it. You can also give it to your partner for Christmas.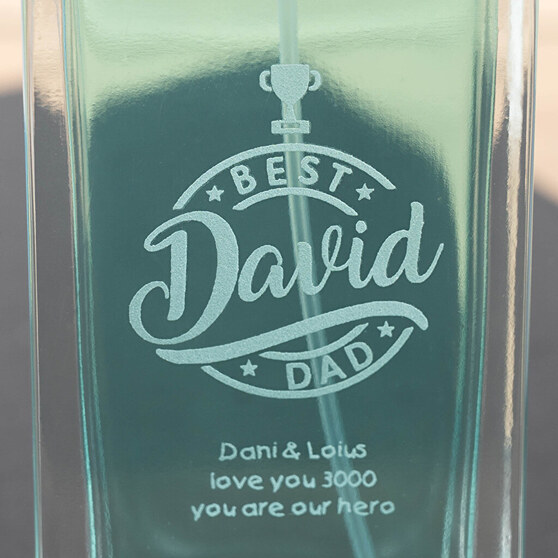 Ingredients
Women's perfume ingredients: Alcohol denat, parfum (fragrance), aqua (water), linalool, benzyl salicylate, limonene, alpha-isomethyl ionone, citronellol, coumarin, benzophenone -3, bht, citral, benzyl benzoate, C.I. 17200.
Fragrance ingredients: Alcohol denat, parfum (fragrance), aqua (water), benzyl salicylate, linalool, limonene, coumarin, citronellol, geraniol, benzophenone -3, alpha-isomethyl ionone, citral, bht, eugenol, cinnamal.
Tags of Engraved perfume bottle