Sizes: 7ø (width) x 16,5 cm (length)
Without minimum quantity
Method of personalisation: engraving.
Environmentally friendly: lead-free. Long durability.
Dishwasher safe

Capacity: 32 cl.
Select a model: Beer glass
Engraved beer glasses
If you are a beer lover, you surely know the pleasure of going to a bar and being served a beer in a glass with foam. Now you're able to do that from the comfort of your own home. If you like to drink a good beer while you eat or while you have dinner. You can also do it while you eat dinner with friends. The beer glasses have been changed forever! You can now design personalised beer glasses.
It is available in two sizes, 32cl and 50cl. The 32cl is the typical one used for when you just want to drink a can of beer. It is made of high quality non-tempered glass with a glossy finish.
It is perfect for the fridge, so you can put your glass in the fridge and keep it cool for when you are going to pour your beer and keep it cold for a longer period of time. It is also dishwasher safe so you don't have to worry about it always looking as good as new. Those lunches and dinners with friends and family will be even better with your new personalised beer glasses. It's time to celebrate and at Wanapix we want you to do it in the best way.
The personalisation of what from now on, will be your favourite beer glass, is done by laser engraving, which erodes the glass and leaves the design you have created permanently marked and engraved on the glass.
And if these glasses are original in themselves, with the personalisation we make them unique. A very unique detail that you will want to use on the most special occasions.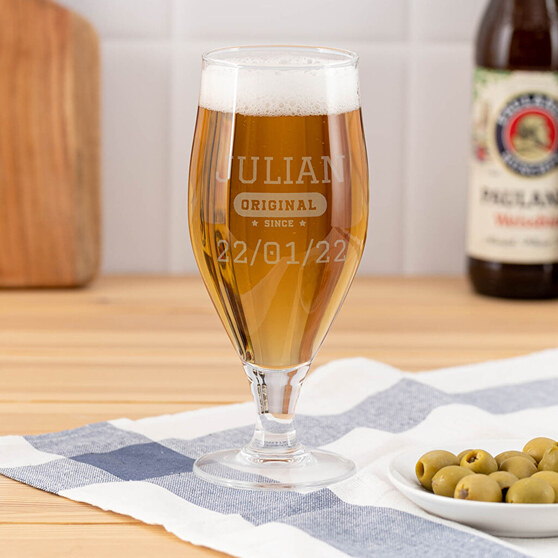 Create an engraved beer glass for any occasion
These glasses can be a perfect gift or even a perfect self gift for anyone who appreciates the details of drinking their favourite drink in the best possible way. It will no longer be necessary to leave home to enjoy a good beer...
In this section you will find a lot of pre-designed templates that you can modify to make them completely to your liking or to the liking of the person or persons to whom you are going to give it. Designs with phrases, special dates or even with your initials, a unique and custom beer glass for you or to give to whomever you want.
If you don't find any design that fits what you had in mind, don't worry. With our online editor you can create your beer glass from scratch, easily and quickly. Your beer glass with texts will be ready in the blink of an eye.
Do you already have your favourite beer ready? Now all you have to do is customise your glass and sit back to enjoy every sip of your beer. Here's to a thousand reasons to toast and enjoy. Cheers!
The best gift for beer lovers
On many occasions we don't know what to give as a gift, we try to find the most appropriate gift for that person and we find it almost impossible. Sometimes we even purchase a random gift without really knowing if they will like it. We want to give you the best gift options. Giving an engraved beer glass as a gift is a perfect gift for the most special and unique occasions, those that are worth toasting for and if the person who is going to receive it is a beer lover, they are sure to love it. There are countless occasions on which to give an engraved beer glass as a gift: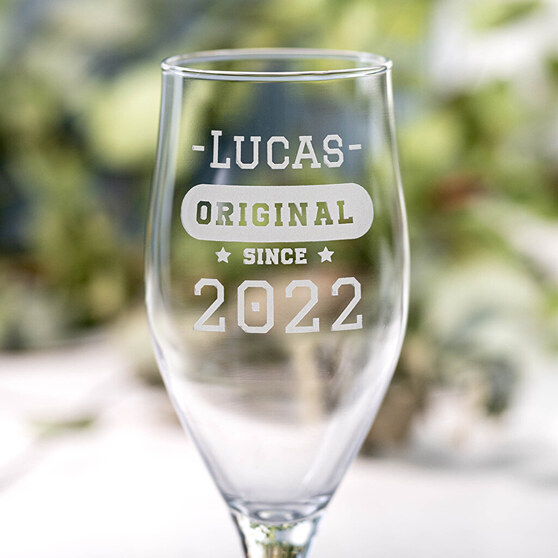 Gift for a couple's anniversary: every year together adds up to moments of happiness and others not so much, but in the end they always make up for the good ones and we must find a thousand reasons to toast and celebrate together. If you want to give a special gift to your partner, prepare a romantic dinner and surprise him or her with these personalised beer glasses.
Father's Day gifts, if dad likes beer, he's sure to be delighted with this gift. All you have to do is think of a touching phrase for him and create a unique gift. It will surely be his favourite drink from now on.
Retirement celebration : most retired people like to drink a nice cold beer and, as they are more exquisite, drinking it in a nice glass will be a real pleasure. If you are celebrating the retirement of someone special, you will be sure to dazzle them with this gift.
Birthday gifts: if you have a friend or relative who is a master brewer, a gift like this is sure to surprise him or her. Now you can personalise a beer glass with their name, an emotive phrase or even a funny one such as: drinking beer is cool, but drinking beer with "John" is better. You are sure to find the ideal personalisation for the person you are going to give it to.
Do you already know how to personalise your new beer glasses? Don't miss out on this original gift for the most beer lovers, it will be the most memorable holiday ever. Create a unique design for yourself or as a gift and we'll take care of the rest.