Personalised poster printing
Sizes: 20 cm (width) x 30 cm (length)
Without minimum quantity
High quality photographic paper 280 grams.
Available in glossy or matte paper.
Most common size: 60x90 cm.
It is delivered with protective paper, inside a rigid tube.
ID: #2178
Reviews with images








---

Personalised posters with photos
Would you like to give a special and different touch to your home? Now it's possible with our personalised posters. Create beautiful corners in your home with our posters.
Posters were at their peak in the 90's. Who didn't have a poster of their favourite singer on their wall? They were a free gift in almost every magazine. Now you can give that 90s vibe back to any corner of your home with our personalised posters. The most popular size for this type of product is 60x90 cm, typical of large merchandising stores, but we have six different sizes so you can choose the one that best suits your place.
They are made of high quality photographic paper and you can choose between glossy or matte finish, as you like. Choose how you want it to be so that the result is the most professional. In addition, it is delivered with protective paper, inside a rigid tube so that it arrives in perfect condition to your hands.
They are often used as decoration in bedrooms to give them a more youthful interior. But you can place them wherever you want, because they also look great in offices, living rooms or literally any other room.
Customise your poster
All you have to do is choose the size you want for your poster. With our online editor you can add an image, photo, or text of your choice and we'll put it on it. You also have at your disposal some pre-designed templates so you can make a faster customisation but still be unique.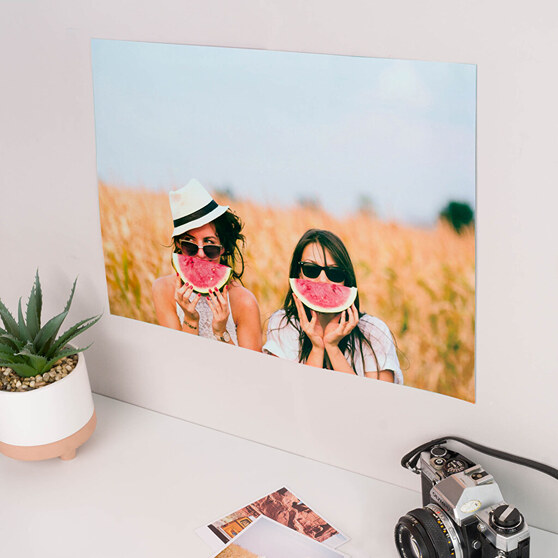 Not only can you decorate with them, but with a simple phrase, an image or text you can tell the people who see it a little more about you and your passions.
Why decorate with personalised posters
With a personalised poster you can decorate any corner of your home. Depending on the design you choose, you will tell them a little more about you and they will get to know you better. If you have chosen an image of a sunset on a paradisiacal beach, they will be able to see that this image transmits peace and tranquillity, which are two things you love.
If you choose for example to decorate a poster with a motivational phrase such as "Today is a good day to smile" they will be able to see that you are a person with a lot of strength and desire to move forward.
The posters we choose define a little bit of who we really are. And at the same time we will be able to transmit feelings to anyone who sees them.
How to decorate your home with personalised posters
Do you have a boring white wall and you don't know how to decorate it? Our posters are ideal for that little corner. Choose photos of paradisiacal landscapes, images of cities you would like to visit, or even photographs of the whole family in special moments. You will give it a warm and homely touch, and what's more, without the need to drill holes in the walls.
Let your imagination run wild and create combinations of posters with different sizes as a collage, you will surely give a perfect touch to that wall that had no charm before.