Give personalised board games as a gift
A personalised board game is a unique gift. We have games for all ages and for unforgettable family moments. Personalised memory card games and classic board games for the youngest kids, photo jigsaw puzzles, personalised playing cards and of course mythical games such as Ludo & Game og the Goose.
All our games are customisable, nobody will have the same game as you. You can create it with your photos and those of your loved ones, you can even add the text of your choice to make it even more special. What are you waiting for to turn a traditional game into a unique and original game?
Personalised board games for family nights
In this section we have compiled the most popular personalised board games for families. Find out how to involve the whole family in the creation of your own game, choose your favourite photos and personalise the family deck of cards, the hilarious "Numero Uno" game or a cardboard jigsaw puzzle. The photo jigsaw puzzles are available in many sizes so you can choose the one that best suits your level.
We can't fail to mention the board with personalised classic board games. The classic game of snakes and ladders, sinking ships or hangman, among others, which you can personalise with your photos and names.
Board games to play with your family
We have to take advantage of the days off with the family to play and spend time with our loved ones, as we usually don't see each other much during the week. And that's why we have a selection of games for you. Take note because these ideas will get you out of more than one moment of boredom.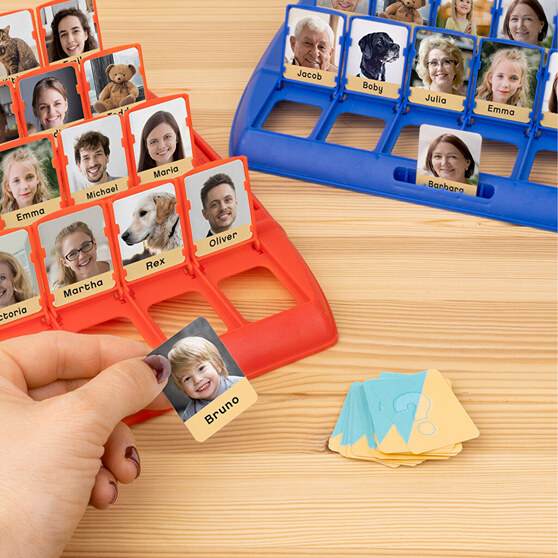 Personalised Playing Cards
No matter how many years go by, a is a classic game that won't go our of fashion ever. With them, you can play with your friends or family at home, at the swimming pool, wherever and whenever you want. Our personalised playing cards are even better, because you can design them to your liking with photos or with any of our pre-designed templates. It's completely up to you how you want it to look like.
Now you have the opportunity to create your own personalised Who's Who game with the photos of your choice. Do you remember this classic and legendary game and how you used to spend afternoons and evenings playing it? Now you can be the main character of the game. And not only you, but also your friends, family and even your pets. Isn't it just great?
Includes 2 boards, one blue and one red. You can add up to 24 different photos to make the game even more fun.
Personalised Dominoes set
Our custom dominoes set with a personalised box is different from all the others you'll find on the market, because you can design the box with your own design, motif or image. It'll get exactly the design that you want it to have!
The dimensions are 18,5x6,5cm and the cover of the game box will have your personalised design. You can design it with any of our pre-designed templates and adapt them to your taste or, if you are very creative, you can add your favourite photos or texts and give it a different touch.
Personalised Pairs Game
A classic game that kids always love is the photo memory game for children. Ours consists of 48 cardboard cards (24 pairs), but with the special feature that you can design them to your liking with your favourite photos or with a nice design.
All you have to do is choose the 24 photos you want in your set, and you will receive all 48 tokens, i.e. 24 matching pairs.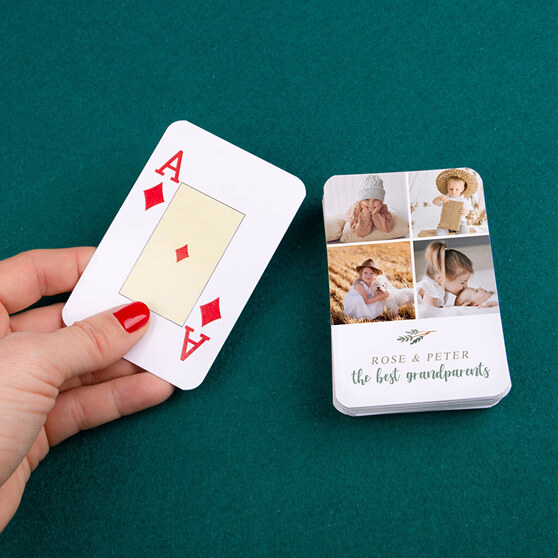 Personalised ludo board game
The two most famous games are now personalised: Ludo and Game of the Goose with photos. They are classics that never go out of style and are very popular to play with friends and family. Because there is nothing better than board game nights with your family and friends or with the one you love.
They come in two different boards, one with Game of the Goose and the other with Ludo. We also include the cups and dice so that as soon as you receive them you can start playing a different game. But what sets them apart from others is the personalisation, because you won't find any other like them in shops.
Other modern games
We have other more modern games, which may not have existed in our childhood but are now a must between the board games of any family. The game Numero Uno, the game Double, or Guess who?, are hilarious games to play from a very early age, and fun for the whole family.
Board games for adults
In today's society there is a multitude of different board games. In fact, there are so many that you will never be able to play them all. That's why it's probably a good idea to stick to a selection of board games that you think are fun. If you are an adult looking for board games, we have several different ones that are for adults. For example dominoes or our regular playing cards
Board games for adults and children
If you are looking for personalised board games for adults and children. then you can find several different ones on our website. Most of the games we have can be played by both adults and children. This means that you can play board games with your kids without getting too bored. Maybe you would like to make a game with photos that you can all play together without the adults or children getting too bored. photo jigsaws with pictures are also a kind of board game. As they take time to lay, it would make sense to lay it together with your children. Sometimes they see patterns that you wouldn't be able to see on your own.
What is a board game?
A board game is a game that is usually played on a board made of cardboard, plastic or other materials. Usually you will find patterns, some symbols or a certain design on the board, as it is a game. Many of the original board games are hundreds of years old, and generally people do not know where many of the games originated. In recent decades, board games have become fashionable again and they are being produced like never before. Many of the games are the easier ones, requiring little practice or understanding.
What is the oldest known board game
The oldest known game in the world is not clearly defined as there are many ancient games that have existed in various parts of the world for centuries. However, there are some candidates for being the oldest known game:
Mancala is a group of games played on a series of round holes or cups, with stones or seeds as pieces. Mancala games have been played in Africa and the Middle East for at least 1300 years and are considered one of the oldest games in the world.
Senet is an Egyptian game played on a board with three rows of 10 squares. It is believed to have been played in Egypt as early as 3500 BC.
Go is a strategic board game from China played on a 19x19 board with black and white pieces. It is believed to have existed for more than 2500 years and is still a popular game today.
Backgammon is a dice game played by two people on a board with 24 triangles. It is believed to have existed for at least 5000 years and has been played throughout the Middle East and Asia.
However, it is worth noting that it is difficult to determine which game was the first in the world, as many games likely originated independently in different parts of the world at different times.