Personalised wooden magnets
Select an option: Wooden square magnet
Sizes: 6 cm (width) x 6 cm (length) x 0,4 cm (thickness)
Without minimum quantity
Flat magnets in various shapes.
Original personalised magnets made of wood
Magnets are one of those decorative elements that have been with us for years and years, but never go out of fashion. There are many types, but wooden magnets have a special charm. They bring an undeniable warmth and elegance. In addition, their durability is much greater because, unlike the classic porcelain magnets that can break when they fall, these ones do not. They have an excellent finish and will resist any fall or blow better than others.
Wooden magnets are beautiful on their own, but at Wanapix they are ideal, because you can personalise them to your liking. They are ideal both for decorating, usually the kitchen of your home and for making an original and different gift.
Our custom wood magnets are of high quality and are also perfect for companies, which can design a magnet with their logo or brand image to give to their customers. You can also choose from various shapes depending on the one that best suits the idea of personalisation you have in mind.
It is the perfect detail to surprise your loved ones and also to build loyalty among current and potential customers of your company or business. At Wanapix we know how important it is to give quality products as gifts, that's why our personalised wooden magnets are the ideal company gift.
Personalise the perfect wooden magnet for any occasion
In this section you will find a lot of pre-designed templates to personalise your wooden magnet with phrases, drawings, names, etc. And if you don't find any design that fits what you were thinking, don't worry, with our editor you have it very easy. You can create the design of your personalised wooden magnet from scratch.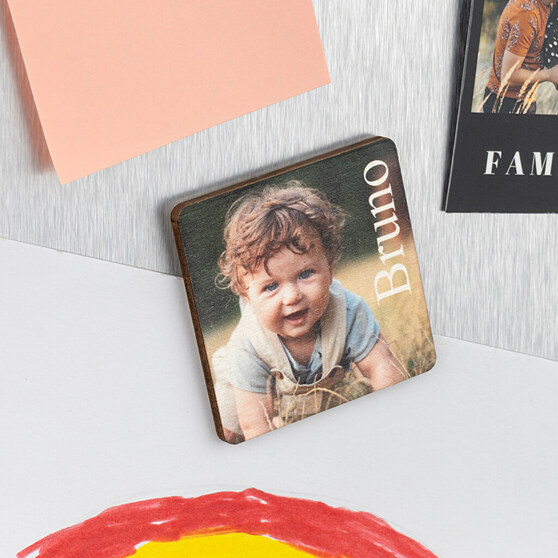 If you want to surprise someone without having to spend a lot of money, this is the detail you've been looking for. All you have to do is let your imagination run wild, create a nice design from the ones we offer or one made from scratch by yourself and we will make sure it is perfect.