Personalised cardboard boxes
Sizes: 10,5 cm (width) x 10,5 cm (length) x 10,5 cm (depth)
Without minimum quantity

Material: white corrugated cardboard. Grammage: 290 gsm.

The lid can be personalised by direct colour printing.

One-piece box, with the lid attached on one side.

ID: #17118
Reviews with images


---

Differences between our personalised cardboard postal boxes
In our online shop you can customise personalised postal boxes. We have two types of postal boxes, with very substantial differences between them. The differences are as follows:
Premium postal boxes
Thicker and heavier, very resistant cardboard.
The top cover and the sides are customised.
Two separate parts: the lid is fully removable.
2 sizes to choose from.
Higher cost than Basic postal boxes, higher quality.
Ideal as a gift box to store objects and to keep for years to come: puzzles, games, souvenirs, etc.
Basic Postal Boxes
Thicker and lighter than Premium boxes.
Only the top cover is customised.
One piece: the lid is attached to the rest of the box on one side.
1 size available.
More economical than Premium boxes, recommended for large quantity orders.
Ideal for events: birthdays, fairs, presentations, congresses, etc. To deliver small gifts or presents in each box.
Premium personalised postal boxes: the best choice for gift boxes
If you are tired of always making the same gift wrappings, now you have the opportunity to do it differently. Our cardboard boxes are totally personalised, lateral included. You will be able to give it many uses and you have several sizes to choose from. Choose the one that best suits your needs.
It's the best way to wrap a gift if you want to surprise the other person. Think about their tastes and make a different and original customizable box. Just select your favorite photos or a fun design, the surprise will be double: for the content and the box itself designed exclusively for the person who receives the gift.
Although they mainly have a decorative use for wrapping gifts, you can give it another use. Save your games, puzzle pieces or papers. Different options so that you can have everything that matters to you well organized and not get lost.
These boxes are very thick and heavyweight and of high quality, so you can keep them for years, on shelves or in cupboards, to store all kinds of objects of all kinds. And, unlike the Basic boxes, they are 2-piece boxes, so the lid comes off completely when you open it.
It is very practical, especially for saving photographs. If you don't like to do it with albums, now you can do it with boxes and divide them by themes: holidays, Christmas, my family... All the themes you can think of. Depending on that, design the box with colors and put the title of the photos to be found inside. It's a different way to organize them and they will be beautifully preserved.
The manufacture of this product is handmade. For this reason, in case of purchasing several units of boxes with the same design, they will not be completely identical to each other. We take care of their manufacture.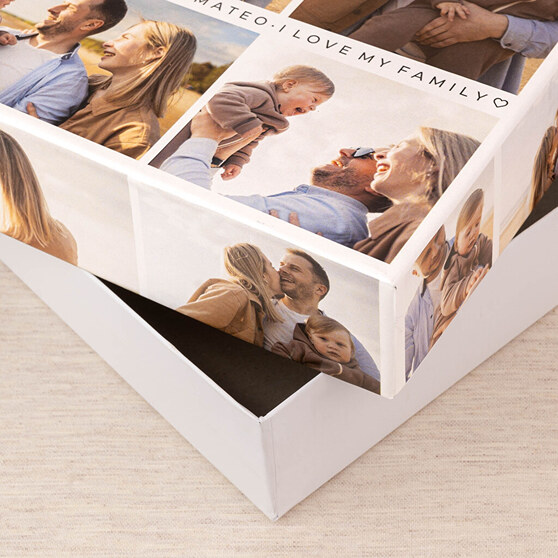 Personalised Basic Postal Boxes: the most economical option for events and large orders
The revolution in the world of packaging! Personalise your postal boxes in the best way, protecting their contents and giving them a touch of originality!
These boxes are made of white corrugated cardboard, a resistant material capable of protecting the contents from possible knocks, where the lid is personalised. They are perfect if you are not very skilled at wrapping gifts, if you want to give a gift at an event and you want to do it using original packaging, or if you have a company and you would like to send postal boxes of your product to create a brand image.
If you have an ecommerce store and you are looking for the ideal option to send your products well protected and with your brand, you are in the right place! We help you to promote your shop or e-commerce by creating the perfect letter of introduction for your business.
The postal box is one of the most commonly used boxes for transporting products by courier or post, and they are designed to send whatever you want with total security, as well as providing them with originality with the touch of printing on the lid. They are used for the packaging of the vast majority of brands, whether for delivery at trade fairs, events or to be sent by post. As they are personalised, your boxes will be unique, designed entirely by you.
Packaging plays an important role in branding and making a good impression on the consumer, so careful packaging never hurts! Just think of the amount of unboxing videos on the internet.... It doesn't get more popular than that!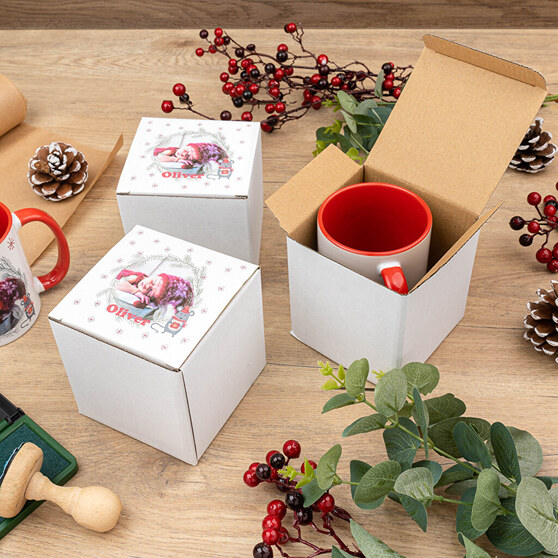 The postal boxes can be customised from 1 unit upwards, but the more of the same you order, the cheaper they are! Thanks to the quantity discounts available. We also use the best printing technology to ensure the final quality is excellent, so all you have to do is choose the design you like and we'll take care of the rest.
If you want to make a difference for your events, they are also perfect to give as a gift or souvenir at a christening, communion, wedding, baby shower or birthday party. Imagine giving your child's birthday some sweets in a little box to all his friends with the words "Lucas' birthday, 5 years" next to his favourite drawing!
Whatever you want to use it for, you're guaranteed to surprise the person you give it to!