Illuminated Personalised Jewellery Stand
Sizes: 14 cm (width) x 18 cm (length)
Without minimum quantity
USB cable included. No batteries required.
White LED light.
Base material: natural wood. Personalised plate material: transparent acrylic material.
Design or photo printed in colour on the acrylic plate.
ID: #16369
Reviews with images






---

The most original jewellery organiser
Women tend to have lots of accessories, earrings with rhinestones, big ones, small ones, pearls, earrings, pendants, rings... There comes a time when we don't know how to organise our beads, or where to put them. It happens to you too, doesn't it? Surely you have an interesting collection... and how difficult it is to keep it organized!
Well, you won't have any more doubts about how to keep your accessories tidy, with the new personalised luminous jewellery stand you'll always have everything at hand. What's more, as it's luminous, it's sure to be great for adding a bit of light to your dressing table or the area where you usually get ready. Keep all your earrings, rings and necklaces together and tidy on this beautiful personalised lamp jewellery stand.
They are available in 3 different shapes to choose from, for the more classic ones the luminous jewellery stand with a round or rectangular shape and for those who want to give it a more special and different touch, it is also available in the shape of a tree.
In addition, it will not only function as a jewellery stand but will also become a decorative element in your room or wherever you want to put it. Now you can give a unique touch to any part of your home or office. With this beautiful personalised jewellery stand. It will look perfect on any piece of furniture, shelf, bedside table, giving it a unique and beautiful touch at the same time.
It has a USB cable, so you can connect it to any USB device, or to any socket in your home using a USB to wall plug adapter. Once switched on, the result will look incredible, with your new illuminated jewellery stand.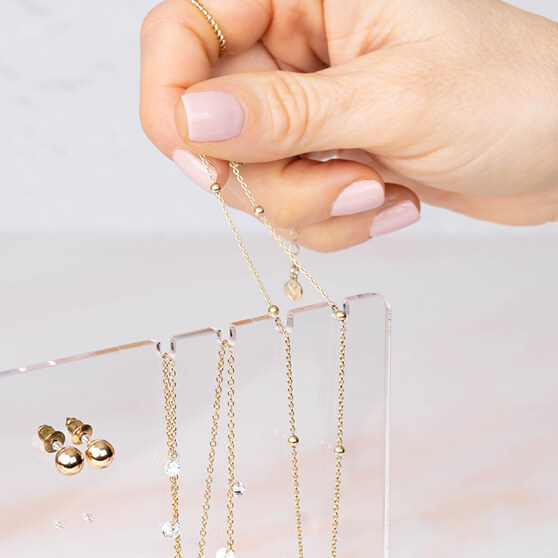 The plate on which we print your design is made of rigid transparent methacrylate, a very resistant material.
The base of the luminous jewellery stand is made of wood in a light tone and its white light creates an unequalled warm atmosphere once it is switched on. It has a cable of approximately 95cm which has a very practical on/off system. To turn the light off just press the button or unplug the cord. No batteries required.
Personalise your 3D Jewellery Lamp
In this section you will find a lot of designs to personalise the lamp completely to your liking. You can choose from pre-designed templates to easily add your personal touch or create the design of your luminous jewellery stand from scratch.
Personalised designs always have a special charm, as they are created by and for you or for the person you have in mind to give this beautiful organiser as a gift. The added value is that no two illuminated jewellery stands will be exactly the same. It will be a very elegant lamp.
Give a personalised jewellery stand as a gift and be as successful as ever!
This beautiful luminous jewellery stand is ideal as a gift for any occasion, whether it's a birthday, Mother's Day or Friendship Day to give to your best friend.
All you have to do is think about how to personalise the design or shape you think she will like the most and personalise the perfect luminous jewellery stand for the occasion.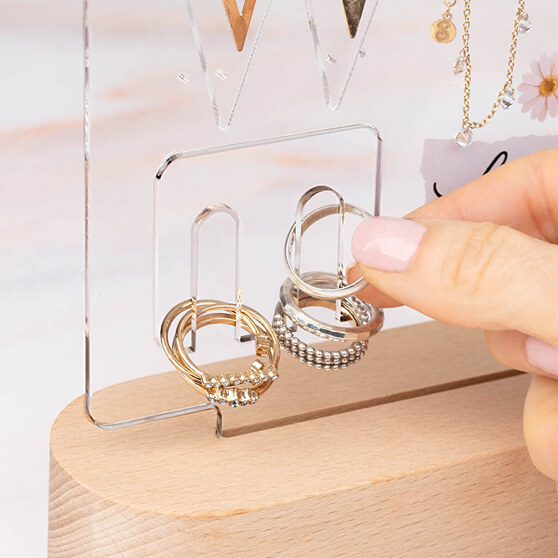 You'll never have to untangle your chains again, or search for that lost earring among hundreds of others, keep everything at hand and tidy with your new personalised luminous jewellery stand.
Do you already know who you're going to give it to? Make sure that the person is going to like the design that you have in mind. Send us your idea and we will make it a reality.
Tags of Illuminated Jewellery Stand