Sizes: 16 cm (width) x 16 cm (length) x 8,7 cm (depth)
Without minimum quantity
Material: okoumé wood, with golden hinges and magnetic closure.
Interior with 4 compartments to store the bags.
Includes 20 bags of infusions (rooibos with vanilla, Moorish tea, Chai tea, and white tea).
Personalisation method: direct printing. The lid is personalised.
ID: #17059
Reviews with images


---

Personalised tea box made of wood
Tea and herbal tea lovers are in luck: here we have the wooden tea box! With a fully personalised lid so you can put your name, text, image, logo or photo of your choice. With 4 compartments to store the tea bags of each type, separated. Undoubtedly, the ideal gift to keep your infusions safe.
The body of the box is made of okoumé wood, and the lid and bottom are reinforced with plywood. In addition, the box has gold-plated hinges and a magnetic closure.
The box includes 20 bags of assorted infusions: rooibos with vanilla, Moorish green tea, Chai tea, and white tea. The box comes with five bags of each of these flavours, from Pompadour.
Choose one of the pre-designed templates we offer and create the most special box for the most special person: add, remove or modify whatever you want to make it totally unique. If you are very creative, you can choose to create your own design from scratch, and make it especially for that special person (or for you!). Personalisation is done by direct printing, which gives the box elegance and originality, making the colours look amazing over time - try adding a photo you love, you'll see how beautiful it looks!
Store your tea bags and herbal teas
This is an okoumé wooden box with 4 compartments, specially designed to safely (and beautifully!) store all your tea bags and tea infusions in one place, without hav
ing to look in the cupboards among all the cardboard boxes they usually come in.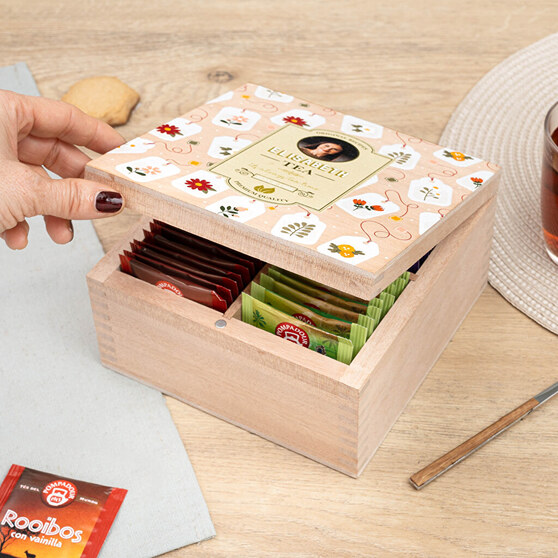 It's a great way to bring them to the table when you have a visitor, so they can choose the bag they like best. Of course, it's also an ideal gift for yourself: don't wait any longer if you're looking to tidy up your infusions!
Savour the exquisite infusions included with this tea box
This personalised tea box includes a set of 20 bags of assorted herbal teas, all from the Pompadour brand. Want to know more about these flavours? Here we tell you about their characteristics and properties:
Rooibos with vanilla
This is an exquisite infusion with vanilla aroma and a pleasant, mild flavour, ideal for both hot and cold consumption. It is made from Rooibos, a South African plant, and helps digestion, so it is perfect to drink after eating.
Rooibos is obtained from the leaves of a plant called aspalathus linearis, of South African origin. Its properties are similar to those of red tea, with the particularity that rooibos does not contain caffeine. This characteristic (the lack of caffeine) has made this infusion very popular in recent years.
In addition, rooibos is popularly believed to have anti-inflammatory properties. It is therefore a plant that helps to prevent intestinal and digestive disorders.
Moorish green tea
This infusion is obtained by combining mint with green tea leaves, resulting in an exotic and refreshing flavour that for an instant transports you to the smells of Marrakech. It is a flavour deeply rooted in Arab culture.
The tea plant has universally known properties, such as relieving feelings of fatigue and tiredness. Moreover, peppermint helps to aid digestion and eliminate gas, as well as decongesting the nasal passages.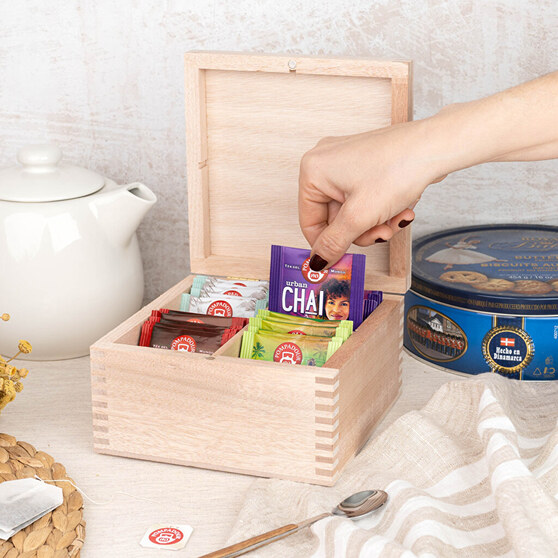 Chai tea
From an Arabic flavour, we move on to a flavour that this time takes us to India. An infusion formed by mixing black tea with various aromatic spices: cinnamon, ginger, cloves, cardamom, star anise, chicory root and black pepper. All topped with a hint of vanilla and sweet blackberry leaves. Chai tea is usually consumed with milk, although it can also be drunk on its own, according to the consumer's taste.
As a curiosity, the word "chai" means "tea". And it is an intense flavour that is traditionally associated with Indian spices, as it is the origin of several of these herbs.
White tea
To complete this journey of scents and flavours of the world, the box also includes white tea, originally from the mountains of Fujian in China. This tea is made by picking the youngest leaves of the Camellia Sinensis plant, drying its buds in a delicate process using light and air.
Legend has it that the great Chinese emperors used white tea to sweeten the elixir of immortality. This legend made this drink very popular in China and, now, in the rest of the world.
The perfect gift for tea lovers
Your father can't do without tea after lunch, your sister can't live without her morning brew? If you think there's nothing better than getting together with your friends one evening at home and enjoying a nice chat over a cup of tea, the personalised wooden tea box is the gift you've been looking for - we're sure you'll surprise him!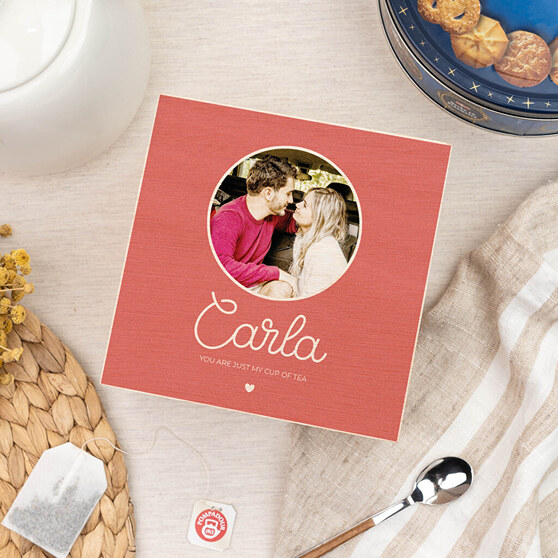 It is not only a beautiful box that will catch the eye of everyone who sees it, but it is also a useful, long-lasting and unique gift: it is a product that he or she will use for sure, that he or she will have forever and that will have been conceived especially for him or her. In short: the perfect gift for those who can't do without a cup of this drink in their hand!
Remember what the philosopher Bernard-Paul Heroux once said: There is no problem so serious that it cannot be alleviated with a good cup of tea.