Personalised superhero capes
Sizes: 78 cm (width) x 63 cm (length)
Without minimum quantity
Choose material: 100% polyester streck (matt) or satin (shiny).
Two sizes: child and adult.
Personalisable on both sides.
Machine washable safe.
ID: #16016
Create your own superhero cape and save the world!
Create your own superhero or superheroine cape, and design both sides of the cape to your liking. Each side can be customised differently. You can choose a symbol you've created, add text or a name, or upload an image, photo or design. Alternatively, you can choose one of our pre-designed templates.
We offer two sizes: a child size for girls and boys and a large size for adults. In addition, you can choose between two different materials. One is streck, 100% polyester with a matte finish. Another is satin, a shiny fabric that gives a more radiant look to your cape. Whichever material you choose, Whichever material you choose, the cape is machine washable and, in the case of the streck capes they can also be tumble dried.. In addition, Velcro is included in the neck area to keep it secured and to allow you to take it on and off comfortably.
Superhero capes for kids
Personalised superhero capes for boys and girls are ideal for different occasions. For children's birthday parties, for example, you can make superhero capes for all the children attending. You can also give a cape to the birthday girl to make the day even more special.
This is also a fun gift for Christmas or for children who are big fans of the great Marvel and DC superheroes: Superman, Batman, Spiderman, Hulk, Wonder Woman, Thor, Iron Man, Captain America, Captain Marvel, Flash, Doctor Strange, Aquaman and many others. You can make a cape with the symbols of these superheroes (although not all of the superheroes mentioned wear capes) or design a special cape for a new superhero, and have fun playing with your family or classmates.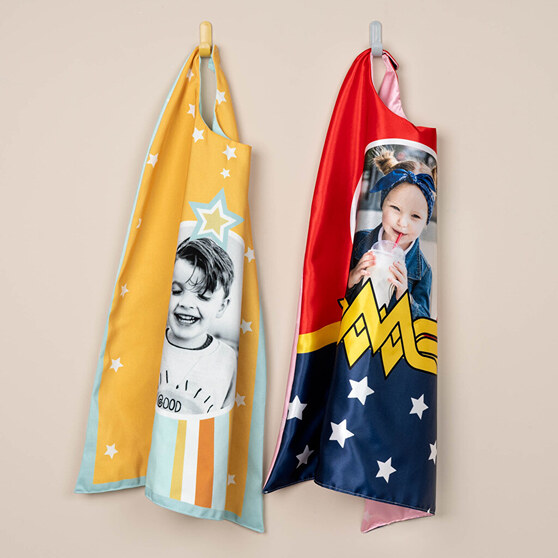 Superhero capes for adults
You can also choose the large size to create a personalised superhero cape for adults. It's a fun gift often used for bachelorette parties, birthdays between friends, as a gift for your secret nephew, as a graduation gift or simply as a geeky gift for adult fantasy and sci-fi fans, readers of superhero comics who might love the idea of playing superhero or superheroine in their spare time.
Difference between fabric types
When creating your personalised superhero or hero cape, you can choose the material you prefer. We offer you 2 different types of fabric. Both are 100% polyester, but in different variants:
Polyester (streck)
Streck fabric is what we usually call "polyester", and is the most common and popular fabric. It allows a wide range of colours as well as a great fidelity to the design and a great definition.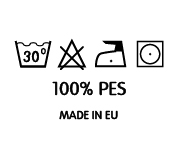 Satin
Satin fabric, also a polyester variant, is a fabric characterised by its soft feel and sheen, giving a more glamorous feel to the product. It also has a very good definition and colour gamut, as the sheen of the fabric makes the colours look more vivid.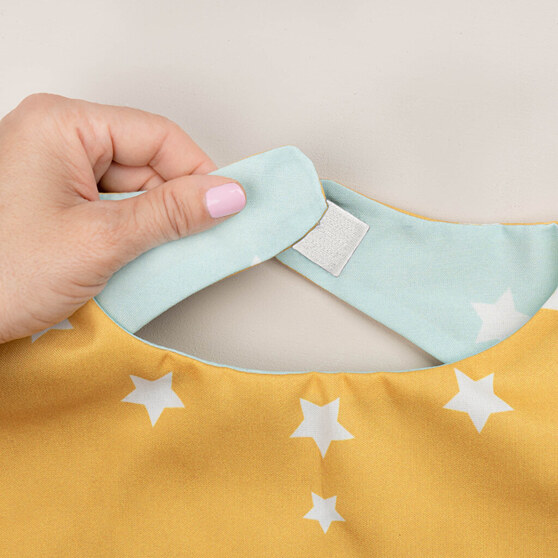 Washing instructions
Machine washable
Maximum washing temperature: 30° or 60° (see material label).
Do not bleach.
Iron on low temperature.
Streck: Tumble dry. Tumble dry on low heat. Satin: not suitable for tumble dryer.
All measurements of these textile products are approximate and may be affected by the image transfer and manufacturing process.