Without minimum quantity
Soft and warm beanie made of acrylic material. One size unisex, suitable for adults and children (from +6 years).
Personalised with embroidered name in white. Wide range of colours.
Original design with white front strip and matching two-tone pompom.
Machine washable. Not suitable for tumble dryer.
Personalised winter beanie with embroidered text
If there is one accessory that never goes out of fashion in winter, it's personalised hats. More and more people use them, regardless of age, because a simple look can look spectacular with a personalised winter hat. When choosing the model you like the most, you should not only take into account which one is the most fashionable at the moment or the colour that best matches your coat or your outfit that day. You should also look for a model that is comfortable to wear and easy to put on.
When the cold weather arrives, hats become the perfect accessory for everyone. In many occasions it may seem a ridiculous or unnecessary garment, but the reality is that it is not, because the head is the part of the body through which we lose more heat, so this garment is perfect to protect you from the coldest winter. It's also the perfect way to complete your looks with style.
Our new personalised winter hat is made of acrylic material, a warm and soft material with a very original design. It is available in a wide range of colours so you can choose the one you like best. It has a white front strip and a two-tone pompom that matches the same colours as the hat.
You can personalise it with your name or the word of your choice and it will be embroidered on the lower part, just at the level of the forehead. Machine washable (maximum 30 degrees). Not suitable for tumble drying or ironing.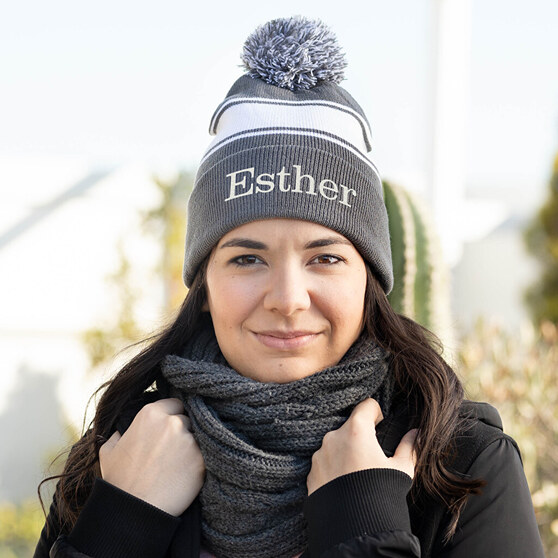 Reasons why your new personalised beanie will be your best friend
There are many reasons why wearing a beanie in winter is the best thing you can do. But here are just a few so that you can see all the benefits that a personalised beanie will bring to your life.
It keeps you warm during winter: winter hats are a very necessary accessory on cold days. They protect your head from the weather and prevent your body temperature from dropping. You will notice the difference when you wear it.
It enhances elegance: visually, this accessory can give elegance to the wearer. All you have to do is think of a colour that suits the occasion. In this case it will also influence the clothes you are going to combine it with or the moment you want to wear it, but it will certainly not go unnoticed.
It allows you to experiment with your style: the hat is one of the typical accessories that can be combined with any garment, be it shoes, a bag, a jacket, a belt, etc. Now you can dare to experiment with your style by making the combinations you like the most. You will surely get an outfit of 10.
They give your style a casual look: because hats are not only for going to the snow. You can also wear them during your walks around the city, to go to a meeting with friends or family or in your day to day to protect you from the cold. They are becoming more and more trendy, so with our personalised beanie you will be more fashionable than ever and also warm.
Advantages of personalising your winter hat
If it's worn by almost all the celebrities every day, you can also add a unique touch to your look with style. We're sure you're thinking about the advantages of personalising your beanie. Who hasn't lost their beanie among all their friends' beanies? Now your beanie will be safe, it won't get lost in the crowd, as it will have your name on it so there will be no confusion of any kind.
It is also a perfect option for an original gift, as it is not the same to give a simple hat as a personalised hat with the name of the person in question. It's sure to make him or her very excited. It's a gift that's sure to be a hit, as no two will be exactly alike, and when an item is a unique product like this one it has a special added value.
Now all you have to do is think about what colour or colours you need to complete your looks and also what word or name you would like to personalise it with. We'll make sure it looks perfect.