Personalised acrylic photo block
Sizes: 8 cm (width) x 6 cm (length) x 2 cm (depth)
Without minimum quantity
Photo frame on acrylic material.
For tables and other surfaces.
Direct printing on acrylic material.
ID: #15717
Reviews with images







---

Personalised acrylic photo block
From now on, your photographs will have a spectacular shine thanks to the printing of photos on acrylic photo blocks. A high quality product that creates a spectacular depth effect, giving the appearance of a 3D photographic frame. The printing is directly on the surface of the transparent methacrylate.
These blocks are decorative and can be supported thanks to their thickness and width. They are ideal as souvenirs of important events such as communions, weddings, baptisms, and are also perfect as gifts for special occasions such as retirements or teachers' farewells. They can even be used as sports trophies or recognition at work.
Acrylic photo frames
Our personalised acrylic blocks are a high quality product, perfect for personalising any space in your home or office. They are rectangular methacrylate blocks, with various sizes to choose from, which can be personalised with any photo you wish.
Ideal for office tables, offices, businesses, shops, shops, premises... These blocks are ideal as a photo frame for a living room or bedroom, as their elegant and modern design adapts to any type of decoration, and their large thickness makes them ideal to place on any surface.
We print your photos on actlic blocks
This family of blocks, acrylic block or photo frames, whatever you want to call them, is the little sister of the family of large format acrylic frames. At Wanapix you have both options: small frames or large frames.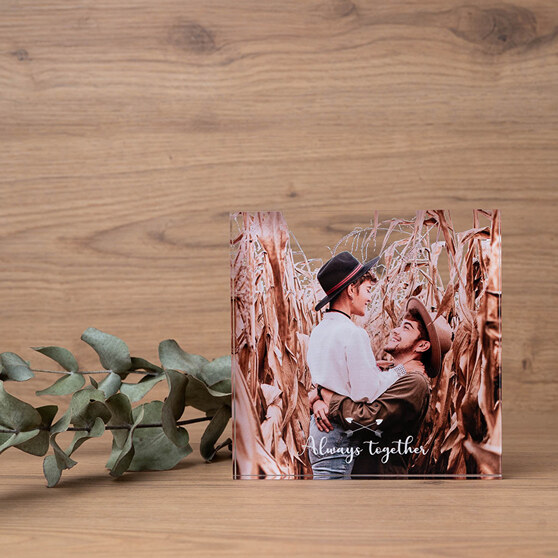 The quality of the acrylic material used in these blocks is exceptional, which guarantees great resistance and durability over time. In addition, the personalisation is carried out by means of high quality printing, which guarantees great clarity and detail in the printed images. You can design your acrylic block from scratch, or use any of the many pre-designed templates available.
They also have quantity discounts, so the more identical units you want, the cheaper each unit will be. This is ideal for discounts on large orders, such as those that can be made for events, weddings, christenings, communions, congresses, retirements and so on.
Tags of Acrylic photo block