Personalised women's T-shirts
Without minimum quantity
Tailored in the waist area.
Material cotton T-shirts: 100% cotton plain jersey. Material: 100% polyester cotton touch.
Printing methods: Cotton: DTG digital printing - Polyester: sublimation.
Cotton T-shirts brand: Stedman.
It is recommended to wash before first use. Turn T-shirt inside out before each wash.
ID: #13509
Reviews with images







---

Choose the right size
Take the measurements of a T-shirt that fits you, both in height (Y) and width (X), as shown in the illustration. From these measurements, choose the T-shirt size that fits you best. If in doubt between two sizes, we recommend choosing the larger size.
| Cotton | X (cm.) | Y (cm.) |
| --- | --- | --- |
| S | 45 | 64 |
| M | 48 | 66 |
| L | 51 | 68 |
| XL | 55 | 70 |
| XXL | 59 | 71 |
| 3XL | 62 | 74 |
| Polyester | X (cm.) | Y (cm.) |
| --- | --- | --- |
| S | 38 | 64 |
| M | 40 | 66 |
| L | 43 | 68 |
| XL | 47 | 70 |
The dimensions are approximate, and may vary slightly after going through the product cutting and printing process.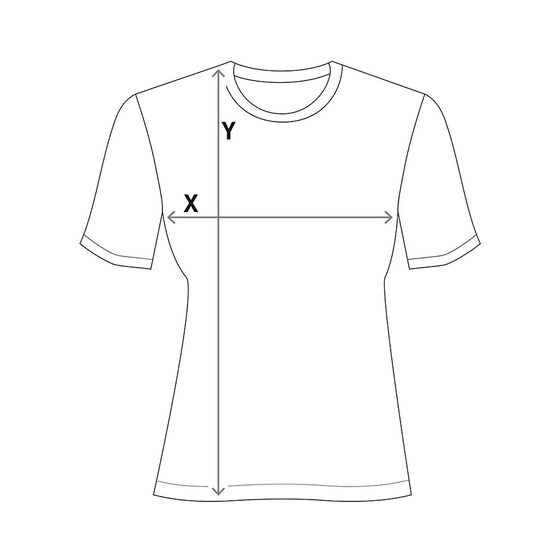 Personalised photo T-shirts for women
There are must-haves in your wardrobe that you should never be without. We are sure that our women's T-shirts with photos will become some of them. These are different from the men's T-shirts in that they have a wider, more open neckline and are more fitted around the waist.
The cotton T-shirts are from the Stedman brand, but the best thing is that you can design them to your liking with any of our pre-designed templates and adapt them minimally giving them your touch. But you also have the opportunity to create it from scratch with your favourite images, texts or drawings and get the most exclusive model.
All our T-shirts are printed in full colour and you can customise them on one or both sides, you decide exactly how you want them. They are also available in various colours so you can choose the one you like the most.
They are very practical, which makes them the best gift for occasions such as Mother's Day, Christmas or birthdays, among other dates. Create the best personalised T-shirt< and surprise everyone.
Technical characteristics of the cotton T-shirts
Fitted T-shirt with short sleeves and round neckline.
Rib neck with elastane.
Inside seam taping.
Regular Fit.
Fabric: 100% cotton plain jersey.
Weight: White: 150 g/m² - Other Colours: 155 g/m².
Direct printed cotton T-shirts
Cotton T-shirts are personalised using digital DTG printing: this is the best method of printing on fabrics of all those that exist, above screen printing, sublimation, transfer, etc. In DTG direct printing, the print of your design is perfectly integrated into the T-shirt, without marks. Another advantage is that it resists washing and continuous use.
Personalised polyester T-shirts with sublimation printing
You can also choose to personalise polyester T-shirts, which are cheaper, and therefore perfect if you are looking for cheap personalised T-shirts. The material is more elastic than in the case of cotton T-shirts. Another difference is that the polyester T-shirts are only available in white.
Polyester T-shirts are customised using the sublimation technique. This type of printing is the most economical, because sublimation prints the design directly onto the T-shirt, without wasting ink as in the case of direct DTG printing. This technique is very cheap and is therefore ideal for orders of many units of T-shirts that are to be used on a single day at events, village parties, farewell parties, etc. Although they are equally suitable for regular use, the print remains durable through washing.
Washing instructions
We recommend that you turn the T-shirt inside out before washing for better preservation of the personalisation.
Machine washable. Wash cold.
Do not bleach.
Do not iron.
Do not dry clean.
Do not tumble dry.
Quality guarantee
Textile products labelled with the OEKO-TEX® mark guarantee that all components meet the required control criteria, including accessories such as rivets, buttons, zips, interlinings, etc. Textile products with the OEKO-TEX® quality seal have skin-friendly properties.