Personalised towel poncho
Without minimum quantity
Composition: 40% cotton, 60% polyester. Thickness: 400g/m2.
Fully personalised on the outside (front, back and hood). The inside is white.
Various sizes to choose from for adults and children. Machine washable.
OEKO-TEX® certified.
Washing instructions
Suitable for washing machines.
Maximum washing temperature: 40°.
Do not bleach.
Iron at low temperature.
Do not tumble dry.
For a high quality finish, please wash before use.
All measurements of these textile products are approximate and may be affected in the process of the image transfer.
Personalised towel poncho with hood
The towel has been a normal household item for many decades, whether it's for the bath, beach or pool. But even a classic like the towel, can be developed into something new. Poncho towels are a more practical and comfortable variant of the classic rectangular towels. They are made of soft cotton and polyester that can be put in the washing machine without deteriorating the quality of the motif/image.
The great thing about a poncho towel is that you can change clothes anywhere without having to look for a changing room or a secluded spot, because this towel covers the body, while ensuring you don't show too much skin. Of course, it also works to wipe your body, both front and back, as well as your head, thanks to the built-in hoodie.
Our ponchos can be fully personalised on the entire outer surface. This means you can choose any design we offer, or you can upload your own image or motif. Either way, the design will be printed on the entire towel front+cap. The inner part, which cannot be seen, will be white and is the one that has a soft terry texture to wipe with.
This customisation allows you to have a poncho that 100% suits your taste. For example, you can add your name to the beach poncho so people can see who it belongs to. You could also add a motif from a movie, a drawing, or your own collage of pictures, etc.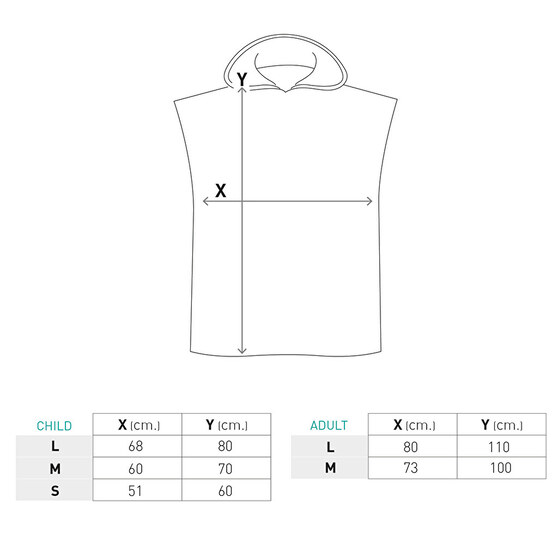 Baby and children poncho towel
We have different sizes of children's poncho towels, both for babies and children. These towels are handy to easily dry the baby after a swim in the pool or at the beach. In swimming lessons for children, it is common for all girls and boys to use this type of hooded poncho as soon as they get out of the water, to dry themselves on the way to the changing room.
Since they are personalised, you can add the child's name to part of the towel so that it can always be identified, or choose a design that the little one likes. Some examples could be a photograph taken of you, the photo of a cartoon character or a design that you like from those available in our overview and templates.
Personalised surf poncho towel
This type of towel is also used by adults, both for drying off after a dip at the beach or pool and for use as a "portable changing room". In this sense, it is a product often used by surfers. After a good surf session, it's time to take off the wetsuit, dry off and change clothes. To avoid having to juggle garments and the normal square towel, the solution is to use a towel poncho, as it gives both arms to work with, making it easier to change out of wet clothes.
Of course, you don't have to be a surfer to enjoy such a practical product: any adult who likes to be by the pool or at the beach will find it very handy to use a poncho towel to dry off and change into after a swim.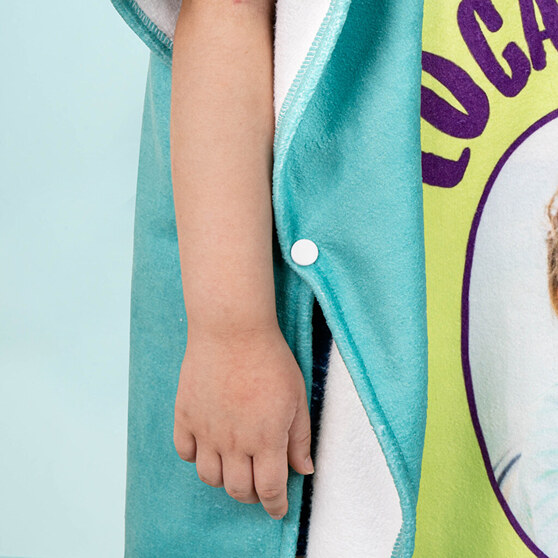 Quality guarantee
Textile products labelled with the OEKO-TEX® certificate guarantee that all its components meet the required inspection requirements, including accessories such as rivets, buttons, zips, interlinings, etc. Textile products with the OEKO-TEX® quality mark are harmless to the skin.