Personalised blanket poncho
Select an option: Coral poncho kids
Sizes: 78 cm (width) x 70 cm (length)
Without minimum quantity
Washer and dryer friendly.
Easy to fasten in the sides.
Sizes for children and adults.
ID: #16169
Reviews with images








---

Washing instructions
Maximum wash 40º
Do not centrifuge.
Tumble dryer: use delicate/gentle cycle.
Iron at low temperatures.
Do not use bleach or detergent.
Certificate of non-flammability: ISO 12952. Report 2011an2084.
Features
Our personalised blanket poncho are 100% polyester and have a thickness of 3 mm. They are made in Spain and the base colour is white. The finish is conventional plush. Over time on most blankets, small balls or fluff, also known as peeling, tend to form, however with our blankets this does not happen. Our quality is supreme!.
The measurements are approximate and, during the cutting and hot printing process, they may vary up to seven centimetres from the indicated measurements.
Don't let the cold weather catch you unawares with the personalised blanket ponchos
Winter has arrived again and with it the desire to make quiet plans at home. Our personalised blanket poncho will keep you warm at home. Winter evenings will be much warmer when you wear it, you won't want to take it off ever again.
We all love to be cosy and warm at home, with our blanket poncho comfort is guaranteed. It is worn over the head like a poncho, and it fastens at the sides with hook-and-eye fasteners, leaving the arms uncovered so we can move around easily and carry out the tasks we want to do without any problem. And as they always say: we lose heat through the head... Therefore, It has a hoodie that will keep us warm at all times.
It is available in both child size and adult size, keeping the whole family warm in the most comfortable way you can imagine.
There are 2 options to choose from:
Blanket poncho made with coral fabric, this option is for those who love that soft touch like silk, like a teddy bear, with a heavier weight than a polar blanket, but also light so as not to be excessively warm.
Blanket poncho made with coral fabric and fleece inside, this option is the best of the best, super warm and super soft at the same time. You'll want to sleep in it. We are already imagining a cold winter afternoon.
It is also washer and dryer safe so it will be super easy and comfortable to have it clean and ready to spend hours and hours with it. This winter there is no excuse to be comfortable and warm at home.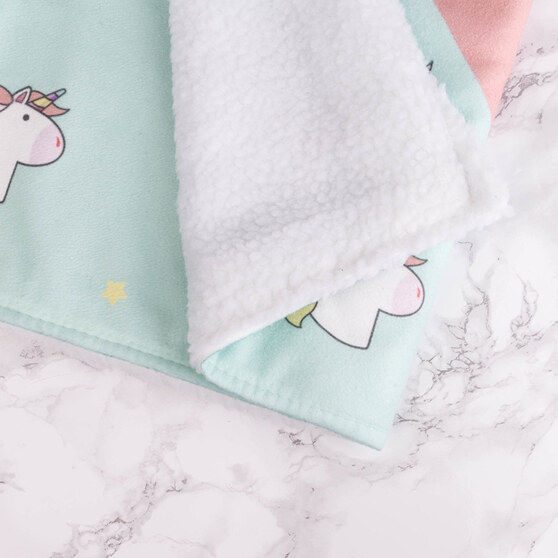 Personalise your blanket poncho for this coming winter
In this section you will find a lot of designs designed by and for you, with our online editor you can modify them as you like, add texts, modify names, upload photos. Any option you can think of will be able to be added to your blanket poncho.
And if there is no design that fits 100% to what you had in mind, don't worry, because you can also create your blanket poncho from scratch. Just give free rein to your creativity and make your own custom design.
You can choose from children's designs for the little ones at home or more elegant and sophisticated designs for adults. Find an image of their favourite drawings and create a poncho for your little ones. They'll be happy with the personalisation and you can rest assured that they'll be warm while they play around the house.
Plans to do at home in winter with your personalised blanket poncho
Listen to music, relax listening to music while sipping a hot tea.
Play your favourite games on your game console or tablet.
Do a puzzle alone or with the family. We're already imagining the picture, the whole family around the table, each with their own personalised blanket poncho and a puzzle in the middle to assemble together. We think it's a perfect plan for a winter afternoon.
Watching a movie, this is the perfect plan par excellence, sofa, movie, blanket poncho and popcorn. Can you think of a better plan? we can't.
Read a book, there's nothing more relaxing than reading a book, wrapped up warm on a cold winter's evening, looking out the window as it rains or even snows while we are warm with our blanket poncho.
Play a board game, this is also a good plan to do with family and friends, choose your favourite board game, put on your blanket poncho and enjoy it like a child again.
Any plan will be perfect to do with our blanket poncho, it's so comfortable you won't even remember you're wearing it. Now all you have to do is think about how you want to personalise it and we'll take care of making it and make it look perfect.
It is also a perfect gift for birthdays, Father's day, Christmas, etc.. Personalise it as you like and enjoy as never before with this blanket poncho.