Without minimum quantity
The fabric fulfills the breathability and bacterial filtration efficiency criteriums as per UNE 0065.
Fabric tested by AMSLAB; Report 20-005095.
Material: 92% polyester + 8% Elasthane. Treatment: waterproof and anti-bacterial.
Reusable for more than 30 washes. Washable at 60ºC.
Sizes: adult (25x42 cm) / child (17x34 cm).

Personalised neck gaiter
With the arrival of cold weather, one of the parts of the body that suffers the most is the throat. It is important to cover it and for this we have the perfect item, the personalised neck gaiter. It is very practical as well as comfortable and will become an indispensable accessory for you on the coldest days.
It is made of high quality fabric with a composition of 92% polyester and 8% EA. It is available in two sizes: adult and children's.
Neck gaiter made of special antibacterial fabric
It is made of special antibacterial fabric and has a water repellent treatment.
The fabric complies with the breathability and bacterial filtration efficiency criteria of UNE 0065.
The fabric has been tested by AMSLAB; with report no. 20-005095.
How to personalise a neck warmer
Like all our products, the neck warmers and neck gaters are also customisable, you can create the design you want with our online editor in just a few clicks. From now on this will be your favourite knicker.
On our website we offer you a lot of pre-designed templates that you can adapt to your liking. But you can also create your own design from scratch, with photos, your own designs or even text, and you'll get a super exclusive model.
It's very cold and your little one wants to go to school warm? This neck gaiter will be the perfect accessory to go to school, and you can also personalise it with the character of their favourite series, or even with a photo of them too. Any idea that comes to your mind can come true with our editor.
You can also make corporate neck gaiters for your company. All you have to do is upload your company logo, choose a background colour that matches the image you usually give so that it is uniform and voilà. Your company's employees will be delighted as they won't feel cold at all with them and they will also form part of their uniform.
Thanks to the type of material they are made of, they can be washed in the washing machine. This point is very important because it is an item that we use on a daily basis and that must be in perfect condition.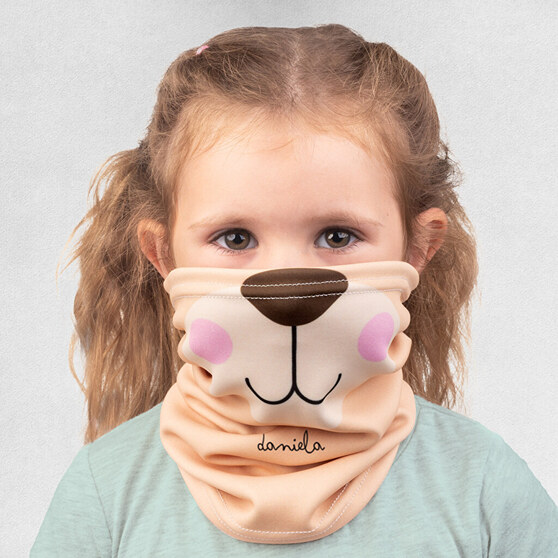 When to use a personalised antibacterial neck gaiter
You can use it on countless occasions, to go to school, to work, to go to the park, to go shopping, to do sports.... Because they meet the criteria of breathability and bacterial filtration efficiency of the UNE 0065.
Any occasion that comes to your mind in your daily routine will be perfect to wear the personalised neck gaiter.
Washing recoomendations
Machine washable.
Maximum washing temperature: 60º.
Do not bleach.
Do not iron.
Do not dry clean.
Do not tumble dry.
Measurements are approximate and may vary slightly after the product has been cut and printed.
Tags of Protection Neck Gaiter