Select an option: Plastic (700 ml)
Sizes: 16,5 cm (width) x 11,2 cm (length) x 5 cm (depth)
Without minimum quantity
Customisable lid.
Approved for contact with food.

Capacity: 700 ml.

Material: plastic.

BPA free product.

Not suitable for dishwasher or microwave.

ID: #16714
Reviews with images







---

Carry your food comfortably in a personalised lunch box
The lunch box is one of the most commonly used containers for transporting food. By using them we help to take care of our diet and at the same time save money without giving up the homemade touch of our favourite meals. The use of this popular container has many advantages. Firstly, it helps us to save money, as instead of eating in a bar or restaurant with the cost of the menu, we can take elaborate and tasty dishes anywhere in our lunch box. And it also helps us to take care of our health, because on many occasions when we eat in restaurants or cafeterias we eat carb heavy food or desserts that we would not eat on a normal day.
What makes our personalisedlunch boxes unique is that you can customise them to your liking, with a design made especially for you. Eating out has never been so easy. And they are not only designed so that adults can take their lunch to work, but also for the little ones at home. They can take their lunches to school or snacks to the park, whether it's a piece of fruit cut into pieces, a sandwich or their favourite snack.
Personalised lunch boxes for meal prep
Meal prepping is a trend that is becoming more and more fashionable. It consists of cooking different recipes at the same time for several days of the week. Combining different preparations to create others in a very short time. This technique has many advantages: saving time in the kitchen, making better use of food, avoiding improvisation, which can lead to a poorer diet, better planning of the weekly shopping and also preparing menus of higher nutritional quality.
Our personalised lunch boxes are perfect for this, as you can take your culinary creations anywhere, and you can even personalise a lunchbox with each day of the week so that there are no mistakes in your weekly food planning.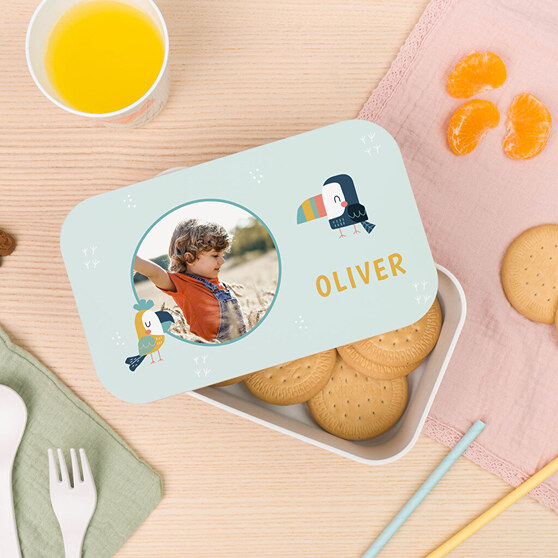 Safety first: 0% BPA
All our tupperware is BPA-free. This acronym refers to the chemical or compound called Bisphenol A, which has been used in plastic products for decades but, after several studies, has been shown to be harmful. It is therefore important that whenever you carry food or drink in plastic containers, you make sure that they are BPA-free, as is the case with all our lunch boxes.
Make a lunch box with your own design
In this section you will find lots of pre-designed templates to personalise your new lunch box and make it your own. Templates in which you can add your name, your partner's or your little one's name, motivational phrases for everyday life. You can even personalise them with the day of the week you want to use them. You will find more sophisticated and serious designs if you are one of those who like to go unnoticed or other more fun and jovial designs if you like to attract more attention. There are also children's designs for the little ones in the house.
And if you don't find any design that fits what you were thinking, don't worry, with our editor you have it very easy. You can create the design of your personalised lunch box from scratch. It will be like drawing on a blank canvas.
Let your imagination run wild and personalise what from now on will be your favourite personalised lunch boxes. We'll make sure they look perfect.