Personalised reusable fabric snack bag
Sizes: 18 cm (width) x 18 cm (length)
Without minimum quantity
Material inner layer: TPU fabric. BPA free and food safe. Stain resistant and waterproof.
Outer layer material: Oxford fabric (100% waterproof polyester). OEKO-TEX® certified.
Customisable on both sides. Portable and ultra-lightweight.
Practical velcro closure to prevent food from spilling out.
Machine washable.
ID: #16655
Personalised snack bag
We know how important your dearest friends and family's health is to you. That's why it's important that they have a healthy diet and healthy eating habits, whether that's eating 5 meals a day as recommended by nutritionists or trying to avoid certain processed foods. Sometimes, however, this can seem like a very difficult task.
With our personalised reusable snack bag, you or your friends or family no longer have to give up on healthy eating. Thanks to our comfortable and practical personalised snack bags, it's easier to carry a piece of fruit, a corn snack, rice or even a small sandwich. The size is perfect so you can take it anywhere you want (in your bag, backpack, etc.) and it has an ideal capacity to store any snack you feel like eating.
You can also personalise it with a name, photo or even one of our designs. Design it to your liking with our online editing tool in just a few simple steps. Upload your favourite photos and designs and get a unique and exclusive snack bag to carry your snacks around in.
Our personalised snack bags are made from two types of high quality fabric. The inside fabric is BPA-free TPU fabric, so we guarantee that it is food-safe and waterproof, helping to prevent food "leakage" and making it super easy to clean. You can clean it with a wet wipe or a damp cloth.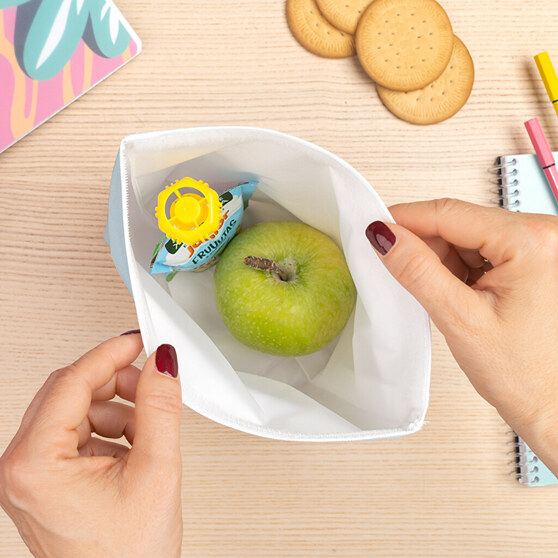 The bag is made from Oxford fabric, which means it weighs almost nothing. This fabric is also water resistant, which helps prevent any food "leaks" and also makes it easy to clean. It has a horizontal velcro closure at the top to make sure your snacks don't fall out. Our snack holder is machine washable and dryer safe.
It has a base so you can keep your food tidy and avoid damaging it during transport. You can put your lunch bag in it as if it were one of those classic American paper bags that you always see in movies. Ideal for your children.
Reusable and environmentally friendly snack bag
Our snack bag is environmentally friendly and can be reused over and over again. You can forever forget about generating waste when wrapping your food. Wave goodbye to tin foil and plastic bags, which are harmful to our environment. Start making your personalised snack bag now and create more sustainable habits.
Cleaning instructions
All measurements on these textile products are approximate and may be affected during the image transfer and manufacturing process.
Please see our washing instructions for longer product life:
Washing instructions:
Machine washable.
Maximum washing temperature: 30°.
Do not bleach.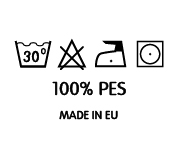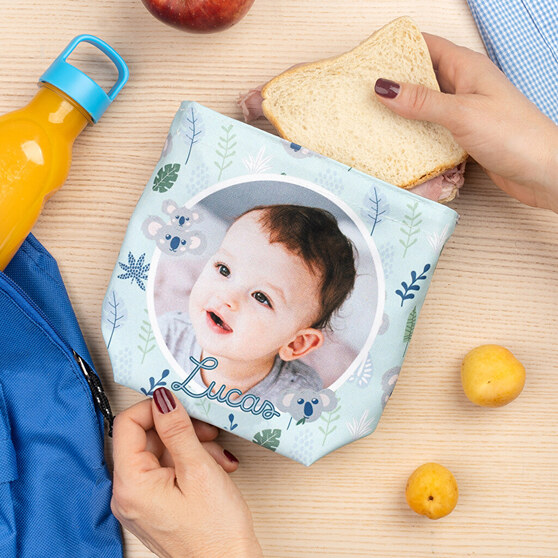 Quality guarantee
Textile products bearing the OEKO-TEX® label guarantee that all components meet the required test criteria, including accessories such as rivets, buttons, zips, interfacing, etc. Textile products with the OEKO-TEX® quality mark have skin-friendly properties.
Tags of Reusable fabric snack bag