Personalised iron-on name labels
Select an option: 24 medium labels
Sizes: 5 cm (width) x 1,4 cm (length)
Without minimum quantity
Thermo-adhesive: iron on in approx. 10 sec.
Extra-resistant: machine washable (max. 60°C) and tumble dryable.
Includes iron on transfer paper to cover the label during ironing.

Each sheet contains 24 labels.

Ideal for marking school clothes with name and phone number.

ID: #16757
Reviews with images







---

Personalised iron-on clothing labels
Iron on clothing labels are the easiest way to identify the clothes of the whole family or your business. Ideal for use on all types of school, sports, nursing home and hospital clothing. With our name tags you can forget about other more expensive and less practical options to put the name on clothes.
They are made of fine textile vinyl and we have three different sizes to suit all types of clothing: small iron on labels, medium iron on labels and large iron on labels. There are 48 small labels, 24 medium labels and 10 large labels with the same design on an A5 sheet. They are very easy to peel off the sheet.
They are thermo-adhesive, which means that they can be ironed onto the garment and they'll be attached to the garment in 10 seconds. They include tracing paper to cover the label before ironing.
Of course, they are long lasting, extra resistant to washing machines and tumble dryers. To prevent fading, we recommend avoiding contact with alcohol or other cosmetic products.
How to iron on name tags for clothing?
Stick the label on the garment, avoiding elastic areas or seams.
Place the tracing paper on the label and press firmly with the iron at maximum power and without steam for approximately 10 seconds. Wait a few seconds before removing the paper.
Finally, we recommend that you do not touch the label for 24 hours before the garment is used for the first time to make sure it sticks well.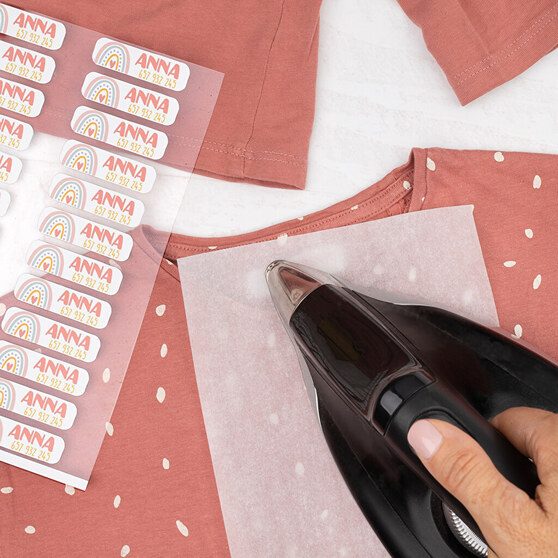 Make your own iron on labels for clothing
Is the new school year coming up? Clothing name tags are an essential part of the preparations for the new school year in nurseries and schools. Both children and adults will be able to quickly identify the clothes without mistakes. Moreover, as they are fully custom stick on labels, you can create exclusive drawings or marks that can be easily recognised by very young children who do not yet know how to read their name.
The material of the labels is very soft and comfortable for children's skin. The personalisation options are endless, you can create your labels from scratch or take advantage of the many designs available on the web.
The usefulness of personalised iron on name labels for marking clothes is not only limited to the little ones, they can also be used for those who live in residences, university or senior citizens, or even for marking professional uniforms.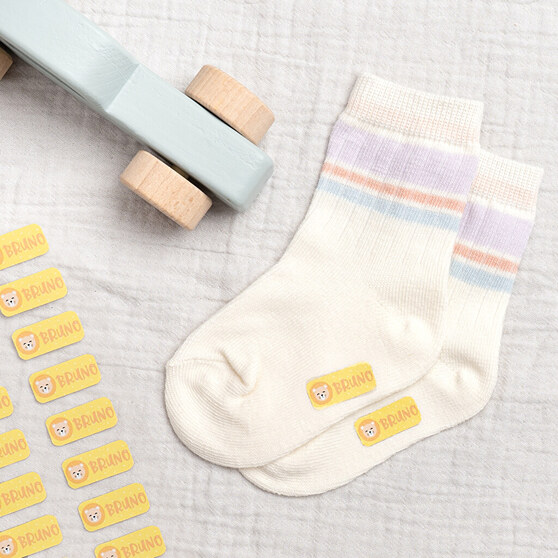 Tags of Iron-on name labels