Personalised kids Tritan water bottle
Sizes: 7ø (width) x 16 cm (length)
Without minimum quantity
Capacity: 440 ml.
Material: Tritan (BPA-free plastic). Strong and lightweight.
Includes straw and carrying handle.
Not suitable for dishwasher and microwave.

Tritan bottles with straw for children
If you are looking for a reusable bottle, made of a material that is ideal for children, resistant, safe and also with a built-in straw? you've come to the right place! It is also available in several colours and can be personalised with your child's name, a photo, a picture of an animal or their favourite cartoon character. They'll love drinking from their bottle.
As they have a built-in straw (dispenser), they are very easy for them to use: all they need to do is push a little bit on the protrusion to pull it up or pick it up; it also has a handle for carrying it. Finally, to refill it, just unscrew the cap. It's imple and easy to use!
What is Tritan material?
Tritan is not really a material: it is a brand name. It is a new generation of recyclable copolyester resins, a plastic free of BPA and BPS (substances harmful to health), with the optimum qualities for making reusable water bottles like the ones we offer here: break-resistant and lightweight. It does not transmit flavours or odours to food. For all these reasons, the tritan bottle is the best option for children's use.
Glass, steel, plastic... in the current market we can find an endless number of bottles and materials. A few years ago Tritan appeared, and it is the perfect alternative for children: it is not fragile like glass, it is not heavy like steel, and it does not contain chemicals like conventional plastic.
Lately, conventional plastic, despite being the most used material in articles aimed at children, has been increasingly rejected by the population as a whole because of the health risks it can entail. In short: tritan is the material par excellence for these cases.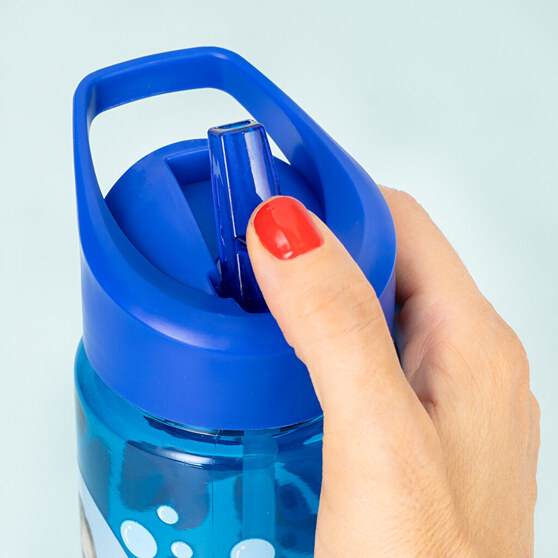 The best kids bottle for everyday use
Children are children and, as such, it is normal and customary for them to drop things from their hands. This also applies to glasses and bottles. Of course, glass objects should always be kept away from their little hands, because of the risk of cuts. On the other hand, metal objects, although infinitely more durable than glass, are heavier and therefore more awkward for them to handle. That's why this bottle is perfect: it won't break, and it weighs very little.
On excursions, after-school activities, or simply in everyday life: these Tritan bottles are ready for continuous use and (mishandling by the little ones. Thanks to their durability, they are the ideal companions for all their adventures. They can carry them in their backpack without fear of breaking or being too heavy, so they will always have water, milk or whatever they want at hand. As they have a built-in dispenser as a straw, there is no risk of the bottle getting dirty, so they can use it on their own and feel autonomous and independent (something very important for them and their self-esteem).
Choose colour and personalise to your liking
Our Tritan bottles, as well as being fully customisable, have different and bright colours to choose from. As for customisation, you can create your bottle from scratch, with your own design, drawing, photo and text, or you can opt for the pre-designed models that we offer you in the online editor. Don't worry, it's very intuitive and you can edit these models to your liking, adding, removing or putting whatever you want, however you want and wherever you want... It's all between you and your imagination!
What are you waiting for to retire those plastic bottles and switch to Tritan bottles? Personalise yours or your little one's and stay hydrated.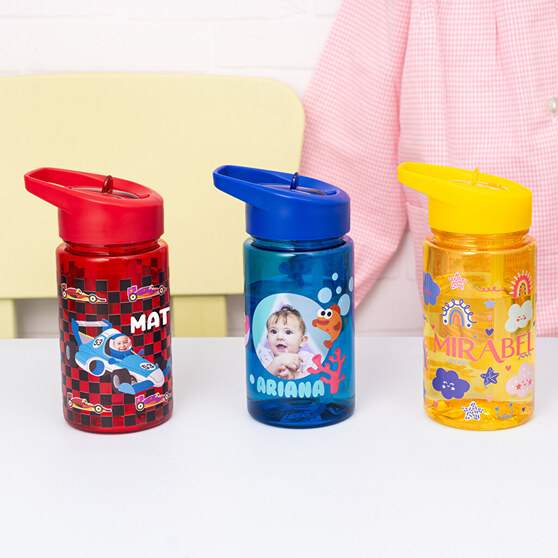 Tags of Kids Tritan water bottle