Personalised school smocks
Select an option: With buttons
Without minimum quantity
Material: cotton and polyester.
Sleeves with elastic cuffs.
Including strap for hanging on a hanger.
Washer and dryer safe.

Includes 2 pockets, one on each side of the front.

Embroidered text in the same colour as the school smock.
Size guide
Before finalising your order, it is important that you consult this table to make sure you choose the right size for your child:
| Size | A (cm.) | B (cm.) |
| --- | --- | --- |
| 12 months | 40-44 | 36-38 |
| 1-2 years | 45-49 | 38-40 |
| 2-3 years | 50-54 | 34-36 (with buttons) / 40-42 (without buttons) |
| 3-4 years | 55-59 | 36-38 (with buttons) / 42-44 (without buttons) |
| 4-5 years | 60-64 | 38-40 |
| 5-6 years | 65-79 | 40-42 |
Measurement A is the measurement from the collar to the end of the smock at the bottom, and measurement B is the total length of the sleeve.
Measurements are approximate, and may vary slightly after going through the cutting and printing process of the product.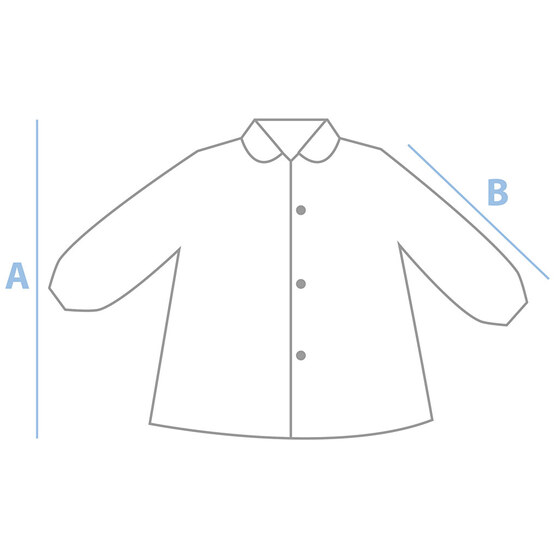 Personalised school and nursery smocks
We all know very well that when it's time for our children to go to nursery or school, we want them to have everything ready for that special moment. For them, our school smocks are an essential item. This item is a must-have during the first years of their school years. In many schools it is even compulsory.
The smocks are mainly used with the aim of preventing the children from staining their clothes with the activities they regularly carry out in the nursery or school.
The fabric from which the school smock for children is made is an aspect that we consider very important and that we must take into account. Our school smock is made of polyester and cotton. It will be a super soft, cool and comfortable smock that your children will feel very comfortable wearing. Its components are excellent for the little ones, avoiding allergies and favouring a correct perspiration.
The vichy check design is a design that never goes out of fashion. It is a classic that always pleases parents and children. Choose the colour your little one likes best from those available and personalise it with their name so that there won't be any confusion between that one and other smocks.
You can choose between two different models of school smocks:
Model without buttons: this model has an elastic band at the neck to make it easier to put it on and take it off, and cuffs with elastic bands to make it easier to put it on and take it off. It also has a strap for easy hanging on the hanger at school or nursery.
It also has a front pocket, this is an aspect that we also consider very important, as we know that children will be able to store their little treasures that they find throughout the day. From handkerchiefs, a stone that their best friend has given them or a piece of the drawing they have coloured that day.
This pocket will have the name of the child embroidered on it, embroidered in white, to make it easier to identify who each smock belongs to. This is something that is usually requested, almost in most cases from the school, that everything comes well marked, firstly so that it does not get lost and also because the teacher will find it easier to identify their little students in the first days of class.
It is available in several different sizes. They can put it on by themselves practically without the help of an adult.
Model with buttons:
This model is designed for children who are in their second stage of school, i.e. when they have already moved on to "grown-up school". It is fastened with buttons. Also printed in vichy squares in different colours to choose from. It also has elastic cuffs, very practical so as not to get the sleeves of the T-shirts dirty. It also has a strap to hang it on the hanger when not in use.
The button-down smocks are excellent from the age of three, when the little ones start to learn to fasten their clothes, to acquire dexterity when dressing themselves, even when they learn to tie their shoes.
It is available in several different sizes. And it has two pockets, one on each side of the front of the smock, and a collar also made of the same fabric as the smock.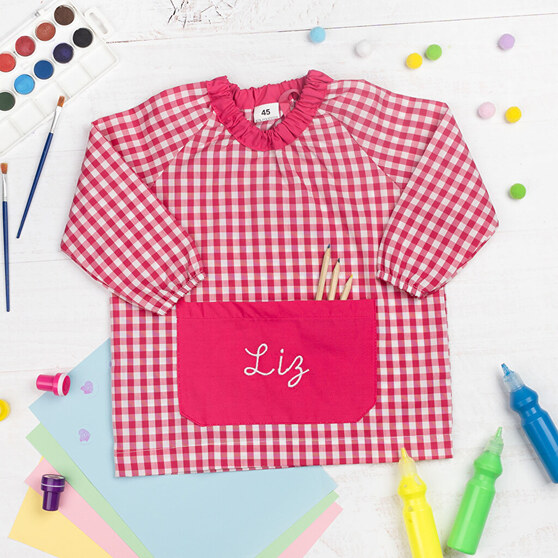 The embroidery of the name in the case of the smock with buttons will be done in the same colour as the smock chosen, for example if you choose the smock with red vichy checks, the embroidery will be done in red.
It is important to bear in mind that the school smock should cover the clothes worn underneath, which is why it should be loose enough to be comfortable in autumn and winter months, when children tend to wear more clothes. You should bear in mind that smock are sized large, so it is advisable not to take more than the size your child needs. The ideal length is below the knees. This will cover a large part of their clothes. Your children will be the kings of school with their new personalised school smock.
Personalise your children's school smock with their name
The smock of your children will never go missing again, as there will be no confusion about it being theirs. Now all you have to do is choose the model that best suits their tastes and age, choose the colour, write their name and we will make sure it looks perfect.
Advantages of using school smocks
All of us who have little ones know that the biggest advantage of having our little ones wear a school smock is to prevent them from staining or ruining the clothes they wear underneath. But we would like to mention other advantages of this beautiful product.
They are comfortable: your child will be able to explore the world without worrying about stains. Just remember to choose the right size so that they fit loosely and this allows them to move freely.
Easy to wash: the fabrics of our smock are made of are super easy to wash. Even if there are some stains that are more difficult to remove due to the material they are made of, the aim is to protect the clothes underneath, which are more valuable.
They help to create habits and routines: there are many jobs that have their own uniforms, such as toilets, cooks, etc. Well, when going to school our children can also get into the habit of wearing their school smocks. This way we teach them that there are occasions when it is essential to wear a smock to carry out certain tasks.
They allow the little ones to explore without limits: a school smock allows our children to experiment and manipulate with the materials they are presented with in a calm way, as they will not damage their clothes and they will be able to enjoy each activity as never before.
Now all you have to do is think about which model best suits your needs and personalise it with the name of the kings of the house. We will make sure it is unique and perfect.