Personalised sports bottles
Sizes: 7ø (width) x 20 cm (length)
Without minimum quantity
Capacity: 620 ml. Material: flexible plastic.
BPA free. Food grade" safety certified.
With removable screw cap and flip-top spout.
Wash by hand. Not dishwasher or microwave safe.
ID: #17099
Reviews with images


---

Personalised lightweight sports bottle
Stay hydrated at all times while doing your favourite sport thanks to the personalised sports bottle! It's a typical flexible plastic bottle (BPA-free!), with a spout so you can drink without having to keep an eye on the cap, and it's the perfect size for carrying it in your bike's pannier.
And what could be better than a personalised cycling bottle? Choose the colour you like best (we have many to choose from!), the design that catches your eye and add or modify whatever you want. We take care of manufacturing them with high quality colour printing, you'll see how beautiful the colours look!
They are made of BPA-free polyethylene (PE). BPA are substances that are often present in plastic and are harmful to health, so you can drink from these jerry cans with peace of mind. This gives them the optimal qualities for making reusable water bottles like the ones we offer here: being made of flexible plastic, it is a lightweight container, as well as being resistant to drops and knocks. It does not impart flavours or odours to food. With a capacity of 620 ml, you are guaranteed not to go thirsty while cycling, at the gym or on the road with your friends.
Stay hydrated in the most original way possible!
In addition to being fully customisable, they come in a variety of bright colours to choose from. As for customisation, you can create your bottle from scratch, with your own design, drawing, photo, initials, logo or text; or, if you prefer, you can opt for the pre-designed models that we offer you in the editor.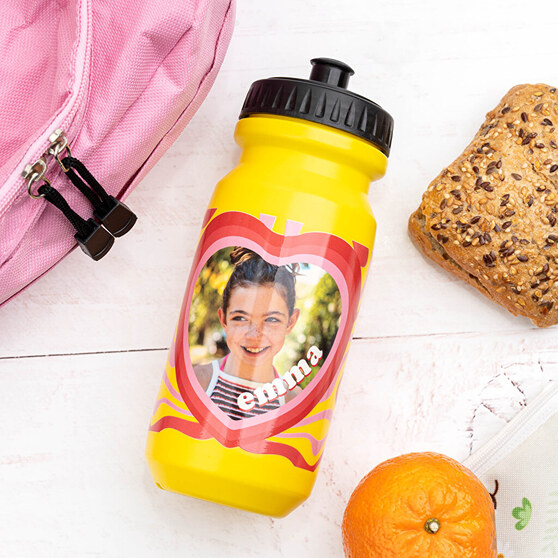 Don't worry, it's very intuitive and you can edit these models as you like, adding, removing or putting whatever you want.. It's up to you and your imagination!
Another very common option is to simply personalise the cycling bottle with a name. It's perfect for knowing who owns the bottle, in case it gets lost at school, office, gym, etc. You can choose from many fonts, adjust the size, choose colour.... And, thanks to the complete editor, you can add logos, symbols or any image next to the name.
The perfect gift for sportsmen and women
For all of them, cyclists, sportsmen and sportswomen, what could be better than a personalised water bottle? We all have that cousin in our circle who loves to go cycling, that sister who loves to do a different route in the mountains every Sunday or that boyfriend who goes to the gym at least three times a week. If you're looking for an ideal gift that you know they're sure to use in their day-to-day life and that they'll be really excited about? you've come to the right place!
Perfect for groups and teams
There are even more advantages, and that is that quantity discounts are available, so if you buy many of the same units, the unit price will be greatly reduced. What do we mean by this? Well, thanks to this, this product is the ideal gift for groups, teams and all kinds of events.