Personalised unbreakable plastic cup
Select an option: 235 ml.
Sizes: 7,6ø (width) x 8,5 cm (length)
Without minimum quantity
Material: BPA-free plastic.

Not dishwasher or microwave friendly.

Unbreakable personalised plastic cups
Help your little one discover their independence by eating and drinking on their own with our personalised children's plastic cup. As they are made of unbreakable plastic, you won't have to worry about dropping or knocking them, as they won't break and there's no danger of cuts. Also, although they are made of plastic, they do not contain BPA (chemicals harmful to health).
Everyone likes pretty things, but if they are also useful and durable, all the better! Products specially designed for children have to be especially resistant, as they will be subject to falls and bumps. These photo cups meet both conditions: they are beautiful, as we have a multitude of different and original designs, conceived to be unique and special; and they are resistant, as the plastic used has been designed for children's use, ready for day-to-day use and are tantrum-proof!
As you know, at Wanapix we love variety, so not only can you choose the design of the cups, but you can also choose between two sizes: a small one (with a slightly conical shape), and a slightly larger one (with a straight shape). We have these two sizes with the little hands of children in mind, especially those who are starting to eat on their own, discover their autonomy and experience new challenges. For all these reasons, the small cup is ideal for the kindergarten years.
Of course, like all our products, the cups can be personalised with the photos, texts and drawings of your choice: it's the best way for your little one to be able to identify their cup at first glance. Try placing a photo of him next to his name, or maybe you prefer to add a drawing he did the other day that you love.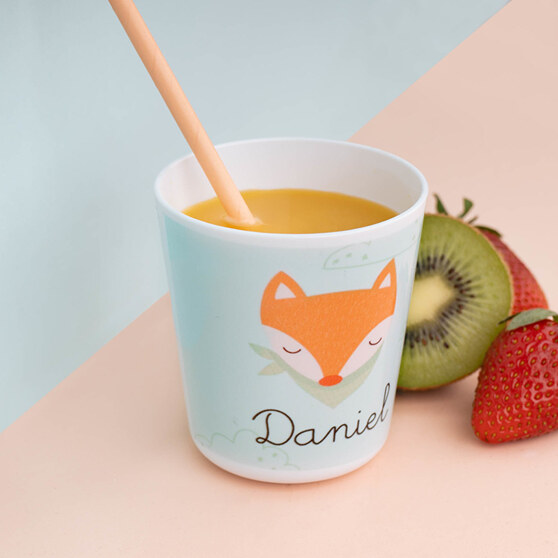 We also provide you with pre-designed templates that you can adapt to your tastes and needs: you can add a photo or remove the option, add more or less text? Go ahead and try different styles and designs! The best thing about personalisation is that it allows you to combine different elements to obtain very original and unique unbreakable plastic cups, perfect for your little one to know which one is theirs (and their teachers, too!).
Design the most exclusive cups and make mealtimes more fun.
Safety guarantee
Our unbreakable plastic cups are BPA Free. That is, they do not contain BPA, which stands for bisphenol-A, a chemical that can pose health risks. You can therefore have complete confidence in the food use of these cups, with full safety guarantees.
Tags of Unbreakable plastic cup