Personalised spiral notebooks
Select a model: Matte paper
Sizes: 10,5 cm (width) x 14,8 cm (length)
Without minimum quantity

100 pages of 80gr.

You can choose the spirals' colours.

250gr personalised laminated covers. Includes protective covers.

ID: #15193
Reviews with images








---

Personalised spiral notebooks
If you're looking for a notebook that perfectly suits your needs, our personalised notebooks are just what you need. With different sizes and types of paper (classic or recycled), all our notebooks are spiral bound so you can write and draw comfortably. The cover can be personalised; the inside pages will be blank, so you can write or draw whatever you want.
Our notebooks are ideal for different applications, from school material for the little ones, to work tools for professionals or even as promotional gifts, adding the logo and name of the company or event on the cover of the notebook. Do you need an original gift for a special event? Personalise our notebooks with the name of each person and make sure their gift is the most special of all.
Whether you are a student, an artist or a professional who needs to take notes, our personalised notebooks are the perfect choice for you. You can choose the type of paper that best suits your needs and personalise the cover with the design you like best.
You can choose between notebooks made with traditional matte paper, or with recycled paper and recycled cardboard cover. When it comes to creating the design, you can personalise your notebook completely to your liking with the most innovative designs, photos, texts or by choosing any of our pre-designed templates.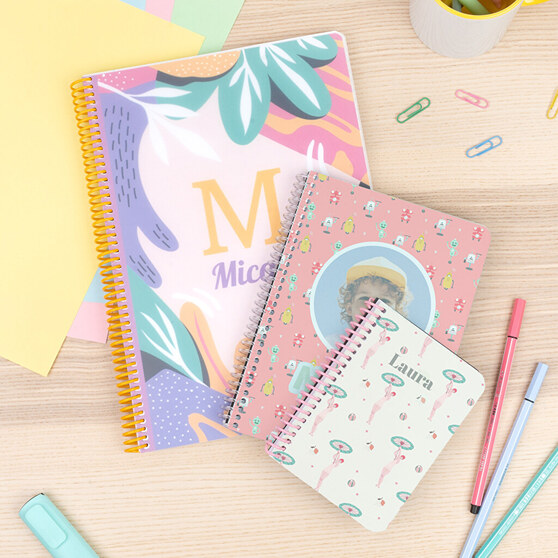 Notebooks with matte paper and protective plastic sheeting
On the one hand, you can create classic notebooks with standard matte paper. You have three different sizes to choose from, so you can choose the one that best suits your needs: A4, A5 and A6. They are like the classic Wire-O spiral-bound notebooks, but with the particularity that you can design them as you like to the millimetre. They contain 100 sheets and you can choose whether you prefer them plain or squared. In case you want the squared sheets, each grid measures 4x4 mm. The thickness of the sheets is 80 gr.
The personalisation is included on the front cover in full colour. The cover is 250 grams thick and has an incredible finish giving it a very professional look. Two protective sheets are included: a translucent one, in front of the cover, and a rigid opaque black one on the back cover.
Personalised ecological notebook
Every day, we are all more and more aware of the ecological issue. Therefore, it is important to promote the use of environmentally responsible products. In this case, using recycled paper notebooks. This craft notebook is A5 in size and the cover can be personalised with the design, photos or text of your choice.
It contains 80 sheets which, like the cover, are made of recycled paper. The pages of the notebook are divided into lines to make writing easier. In addition, they are micro-perforated on the side, so that you can tear off sheets easily and cleanly if you wish to do so.
These notebooks are called craft (or kraft) notebooks because they are made of recycled cardboard and paper, and are therefore a sustainable and environmentally friendly product.