Select an option: 24 medium-sized adhesive stickers
Sizes: 5,4 cm (width) x 1,4 cm (length)
Without minimum quantity
They easily peel off from the sheet.
Weight: 140 g/m2.
Extra resistant: Microwave, dishwasher and fridge proof.
The fastest and most convenient way to mark objects.

Each sheet contains 24 labels.

Ideal for marking items with name and phone number.

ID: #16771
Reviews with images








---

Personalised vinyl adhesive stickers
Labels are a very useful object when marking all of your belongings, so that all our belongings can be identified in a quick and easy way. They are ideal to apply on all kinds of school material: pens, pencils, books, notebooks, folders... and even on tupperware or water bottles, thus avoiding losses or exchanges in class. With our personalised adhesive labels you will save time, money and, above all, headaches.
And it doesn't end there! These personalised vinyl stencils are perfect for marking, for example, your child's tennis racket or even your baby's dummy. Is your daughter going camping? Don't worry: you can also use them to mark her toothbrush, shower gel and water bottle.
Our personalised adhesive labels are made of thin vinyl that fits perfectly on all types of material. We have two different shapes to choose from: rectangular and round. In addition, for the rectangular shape, you can choose between two sizes: small (68 small stickers) or a medium size (24 medium stickers) with the same design on an A5 sheet. They are very easy to peel off the sheet. Knowing this, you can choose the small ones for marking pencils, the medium ones for books, and the round ones for bike helmets, for example.
In contrast to conventional stickers, the personalised stickers on our website are made of high-quality materials and are designed for continuous use. They are extremely durable, dishwasher, fridge and microwave resistant. However, to prevent fading, we recommend avoiding contact with alcohol or other cosmetic products.
With our online editor you can design them very easily, you can choose from a lot of designs that we offer on our website or if you prefer you can create your own design from scratch, upload the image you want, put text, drawings or whatever comes to your mind. You only have to select the product and, in our editor, design them as you like.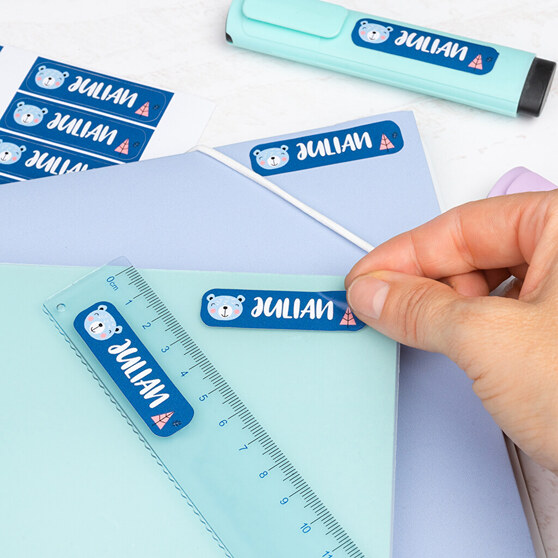 Design your personalised stickers
Is Back to School coming up? Stickers for marking objects are an essential part of the preparation for the new school year in nurseries and schools. Both children and adults will be able to quickly identify the material without mistakes. Moreover, as they are fully customisable stickers, you can create exclusive drawings or logos that can be easily recognised by very young children who do not yet know how to read their name.
The customisation options are endless, you can create your labels from scratch or take advantage of the many designs that you have at your disposal on the web to mark the children's belongings.
The usefulness of these personalised labels or stickers is not only limited to the little ones: they can also be used for those who live in residences, university or retirement homes, or to mark your objects at work. They are also ideal for travel lovers : suitcases will be identified in the blink of an eye, without fear of them getting lost or coming loose like typical luggage tags that can be put on and taken off.