Engraved keyring with cat charms
Sizes: 3,5ø cm (width) x 0,1 cm (thickness)
Without minimum quantity
Material: stainless steel.
Can be personalised by engraving on the round badge. Personalised on 1 side.
Includes 3 miniature figures: a cat, a cat's paw print and the text "I love my cat".
Each charm measures 2.5 cm (approx).
ID: #16941
Personalised keyring perfect for cat lovers
Everyone loves cats: they're funny, cute, cuddly, affectionate, and stars in the best internet memes. We're sure you have a cat yourself, or have close friends and family who have one (or more). For everyone, there's a gift that won't fail: this keyring engraved with cat charms. The keyring includes small but very detailed figurines related to our favourite felines. There is a cat figurine. A cat paw. And a small sign with the text "I love my cat" (replacing "love" with a heart, and a cat's face appears).
With these details alone, the keyring would be great, but to make it even better, it's personalised! The personalisation technique consists of engraving on the round plate included in the keyring. All you have to do is think about who you want to give it to, and you can personalise it with a photo, a name or a special phrase as a dedication and make a surprise. You can put a real photo of the cat, or of the owner with the cat, or the name of both of them with a heart? it's up to you! The possibilities are endless.
Use templates or create your cat keyring from scratch
In this section you will find many pre-designed templates that you can modify to your liking, to make them completely your own. All you have to do is think about what occasion you want to use it for or who you want to give it to, create a nice design and we will make sure it looks perfect.
And if you don't find a design that fits what you need, don't worry. You can create the design of your engraved cat keyring from scratch with our online editor. In just a few clicks you'll get a design that's tailor-made for you.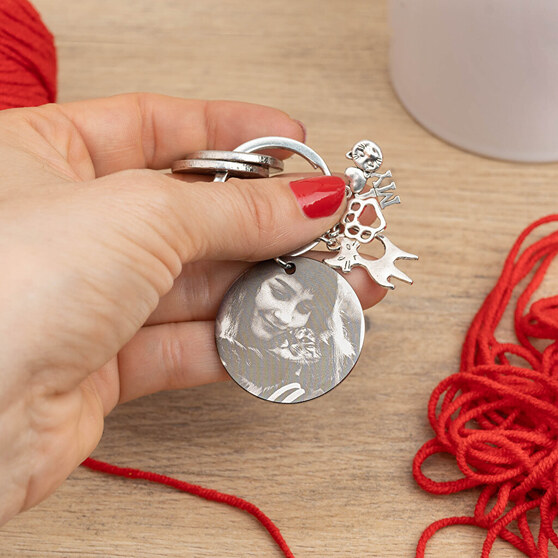 Tags of Engraved keyring with cat charms