Personalised wooden keyring with the shape of a heart
Select an option: Heart-shaped
Sizes: 6,5 cm (width) x 6 cm (length) x 0,4 cm (thickness)
Without minimum quantity
Flat key rings in various shapes.
Material: wood.
Personalised on one side.
ID: #16220
Reviews with images







---

Flat wooden keyrings with your photo
Personalised wooden keyrings are becoming more and more fashionable, and if we also have them in original shapes, we have the perfect keyring. Our personalised wooden keyrings in a variety of shapes are the ideal option for all tastes.
The wood is perfect for customisation, making the design stand out in a spectacular way. They have the classic ring in which we put the keys in the order we want, but it also includes a small carabiner that will serve to hang it anywhere quickly and easily.
Customise your wooden keyring to your liking
In this section you will find an endless number of designs that you can modify very easily and quickly to make them your own. These keyrings are ideal for children to decorate their backpacks, as well as for adults, both for personal use and as gifts.
If you can't find a design that fits your needs, you can also make your own wooden keyring from scratch. Play at being the designer of your keyring and create a design that stands out in a special way. You can write names, add text, upload photos or images or even create a beautiful keyring with your company logo to give as a gift at the inauguration or event you are celebrating.
Any idea that comes to your mind can be reflected in our wooden keyrings. We will make sure it looks perfect.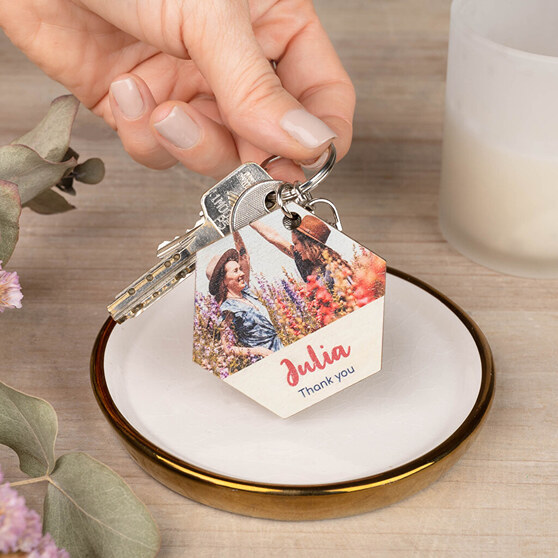 Advantages of personalised wooden keyrings
If you are here, it is because you have decided to create a personalised wooden keyring, either for yourself or to give as a gift at an event, and we would like to define the advantages of personalised keyrings:
Original: our shaped wooden keyrings are the most original on the market. With them you will surprise with no effort at all.
Customised: with us you can customise any of the designs we offer or personalise it to your liking from scratch. You will always see the previous design before confirming your order so you can get an idea of what the perfect keyring design for you will look like.
Economic: with us it is possible to personalise the wooden keyrings as you like, but they are also economical, whether you want to make an original keyring or you want to make it in large quantities to give as a gift at an event, whether it is a wedding, a christening or even a business opening.
Comfortable and light: the keyrings are not only beautiful, they also weigh very little and have a small carabiner that will allow you to hang them easily anywhere you want.
Exclusive: each idea is unique, so we offer a lot of designs to customise them and make them yours or create your own design to make it as unique as possible. Our exclusive wooden keyrings are economically accessible to anyone.