Sizes: 3,5ø cm (width) x 0,1 cm (thickness)
Without minimum quantity
Material: stainless steel.
It is personalised by engraving on the round badge. Personalised on 1 side.
Includes 4 miniature charms: baby buggy, baby booties, baby footprints and a baby bottle.
Each figure measures 2.5 cm (approx).
ID: #16943
The cutest keyring for a mummy
There are plenty of gift ideas for pregnant women or new mums, but few gifts are as original as this one. This is an engraved keyring with baby charms. And it is original for two reasons: on the one hand, because it has several baby-related charms. On the other hand, it can be totally personalised to your liking.
As for the charms, which are the little figurines that are set on the keyring, there are four different ones. They are small but have a high degree of detail. There is a pram, with its bonnet, wheels, and even some hearts decorating the carrycot. There is also a detailed baby bottle charm, baby booties, and a round charm with little baby footprints inside.
In addition to these small decorative pieces, there is a round badge that can be personalised. Specifically, the method used is direct engraving on the piece. Thus, we can engrave the design you create directly on the website when ordering. It can be a photo of the newborn baby, or with mum, dad or all together. As well as texts: name, date of birth, or even other data such as weight and height, to create a souvenir for life.
If you are having trouble deciding how to personalise the keyring, you have several pre-designed templates at your disposal. You can choose the one you like the most and edit it with the data that each design may require, either uploading a photo or editing the name or text.
This keyring can be given as a gift for any occasion, but probably the perfect moment is when the mother has just had her baby, or even when she is pregnant, as you can give her this keyring with the baby's name, in case she has already decided on it. It also makes a perfect gift for a woman's first Mother's Day, or for her first birthday as a mum.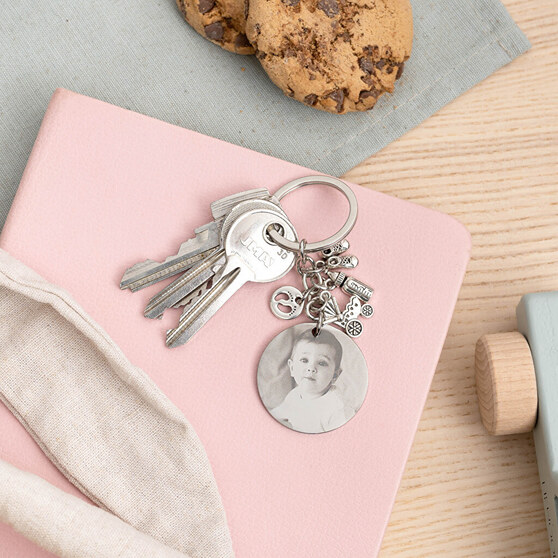 Tags of Engraved baby keyring