Personalised glass water bottle
Sizes: 6,3ø (width) x 22,5 cm (length)
Without minimum quantity
Capacity: 500 ml.
Material: clear glass bottle, bamboo screw cap.
BPA free.
Not suitable for dishwasher or microwave.
ID: #16796
Reusable and customisable glass bottles
Do you want to forget about single-use plastic? At Wanapix we make it easy for you: switch to glass bottles! Reusable, sustainable, environmentally friendly, safe for your health and customisable! They have a capacity of 500 ml. What are you waiting for to take care of your health and that of the planet?
Our bottles with bamboo stopper are fully customisable with your favourite photos, designs, drawings or texts. You can choose one of our pre-designed templates and edit it to your liking: add, change or remove elements; or maybe you prefer to create your own design from scratch, so that the personalisation of your water bottle is entirely up to you. There are thousands of options!
Why choose a glass bottle?
Everyone should carry a water bottle in their backpack or bag every day: By doing that you'll always stay hydrated. Glass bottles keep the temperature of drinks stable, which makes them ideal to have on hand at the office or in university classes. In addition to being beautiful and elegant, these custom glass bottles represent an ideal and, above all, useful and original gift: forget about those gifts that you know will sit on a shelf without any use, these personalisable glass bottles will always accompany the person you choose to give them to!
The environment is crying out for a change in our behaviour. Even if, as individuals, what we do seems like a grain of sand, together we can make a difference. In addition, single-use plastics are disappearing at a fast pace because many of them contain toxic and hazardous substances: think of how many plastic bags were seen a few years ago, compared to how few are seen today. Glass, however, is chemically unalterable, hygienically reliable, transparent, easy to clean, reusable, recyclable and does not impart taste or odour to drinks. In the following paragraph we explain all these incredible advantages to you.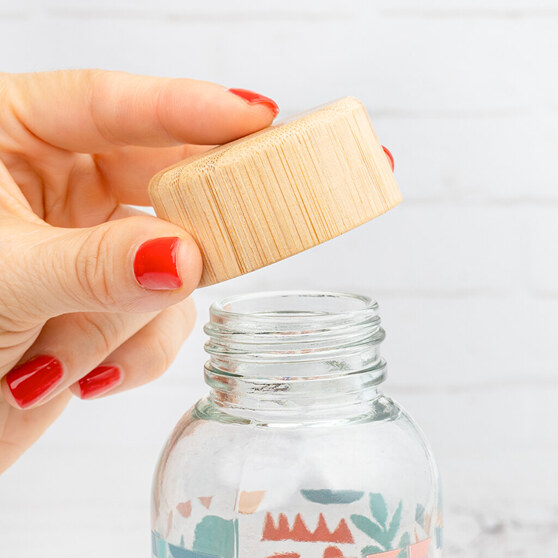 Why glass bottles are better compared to plastic bottles
Chemically unalterable: this means that it doesn't matter how long your drink is in there or whether it is hot or cold, as time or temperature will not cause it to lose its properties, alter its taste or smell or transfer substances that are harmful to health.
Hygienically reliable: glass is a material that has been used for centuries, so there must be a reason! This type of material is completely hygienic and suitable for consumption.
Transparent: unlike many plastics, the glass bottle leaves nothing to the imagination!
Easy to clean: glass is easy to clean, without having to scrub or insist too much. Other materials, such as plastic, can be stained or darkened by certain beverages.
Reusable and recyclable: glass is a material that you can use and reuse ad infinitum, without health hazards and without contributing to the production of single-use containers. In addition, it is fully recyclable, making its useful life very long.
It does not transmit smell or taste: plastics often alter the smell and taste of the food they contain. This is something that glass does not do, keeping your food intact.
In short: using a glass bottle is beneficial for our health and that of our planet. What are you waiting for to get your own personalised bottle? We are sure you will love them!
Tags of Glass water bottle