Select an option: Without clock
Sizes: 30ø cm (width) x 0,4 cm (thickness)
Without minimum quantity
Material: methacrylate. Colour: black.
With grooves that imitate the texture of vinyl records.
Measurements of the customisable area: Ø 14 cm.

Includes support feet or wall bracket (optional).

ID: #16464
Reviews with images








---

Custom vinyl records for decoration
For many people music means a lot, it is more than just their favourite song or playlist, it is a way of looking at life. Music is often linked to memories of special moments. There are many occasions when music has the power to transport us to a specific place, without moving from where we are. People who love music consider it a way of life and a way of expressing themselves.
We often think about what gift we can give someone without stopping to think about their tastes or about something that they would really enjoy. We go for the first gift we find, or the one that is in fashion at the moment without knowing exactly if the person who is going to receive it will like it. If you know someone who likes details and music inspired gifts these decorative personalised vinyl records will be the perfect gift.
These custom vinyl records are made of black methacrylate. It is approximately the size of the classic LP format. It measures 30 cm in diameter, the area to be personalised is the central area, with a personalisation area of about 14cm in diameter. It has some grooves engraved on the methacrylate that imitate the texture of the original vinyl records. This decorative vinyl record will allow you to decorate any corner of your home giving it a unique touch. It doesn't matter if it doesn't play any song, it will surely come to your mind as soon as you see the design you have created!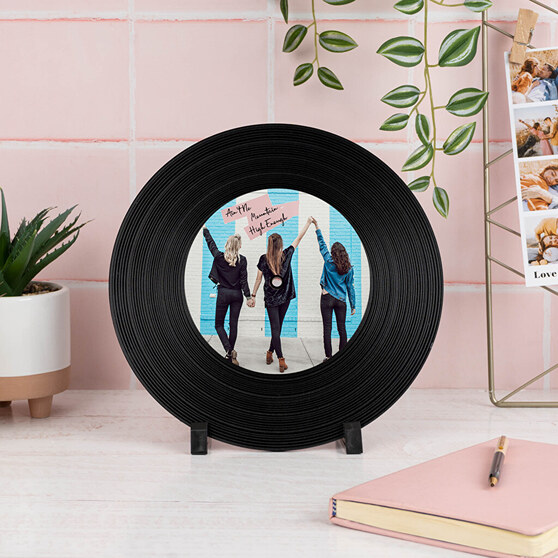 You can choose between 2 different models. The clock model, so you can watch the hours go by on this vinyl record decorated to your liking. This model has a hook on the back so you can hang it wherever you like. The decorative model, which is the same size as the clock but without the clock mechanism itself, you can personalise it and choose the hook option to hang it on the wall or with a stand so that you can place it on any piece of furniture in your home, whether on the bedside table, in the living room or in the hallway at home.
Surprising someone who loves music has never been so easy. With this gift, you're sure to get it right.
Create the perfect vinyl record for yourself or to give as a gift
In this section you will find a lot of pre-designed templates that you can modify to make them completely to your taste or to the liking of the person or persons to whom you are going to give it as a gift. Designs with phrases, special photos, etc, a unique personalised vinyl record made to measure for you or to give as a gift to whomever you want.
If you don't find any design that fits what you had in mind, don't worry, with our online editor you can create your
decorative vinyl record from scratch
, easily and quickly. In the blink of an eye the ideal personalisation for your vinyl record will be ready.
Music is a great companion and can change our mood very easily. We are sure that with this new decorative element you will be able to change yours or your recipient's mood in a unique and special way. The power of music is incredible! There are songs for every moment of our life, and also for every person. You will be able to personalise a decorative vinyl for any person that comes to your mind, for sure you will be able to relate with him or her a song to design your new decorative vinyl.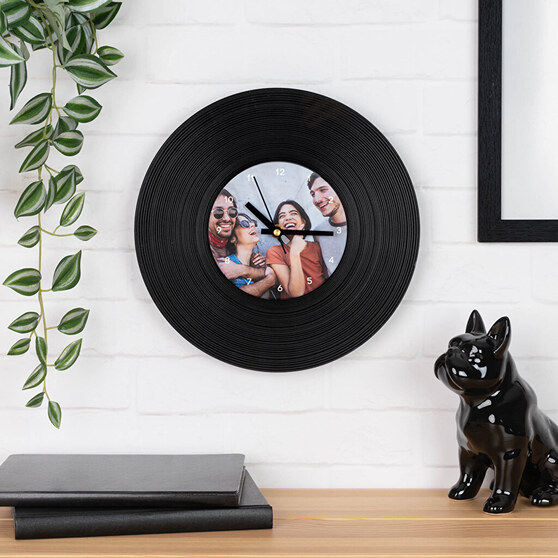 Do you already know how you are going to personalise this original gift? Don't miss out on this beautiful gift for music lovers. Create a unique design for you or to give as a gift and we will make sure it is perfect.