Without minimum quantity
Available sizes: 36/38 - 39/41 - 42/45.
Non-slip sole.
Materials: upper part in 100% polyester fabric; bottom in black rubber (thickness 1,4 cm).
Black rubber with decorative motif with grip between the toes.
ID: #616
Get your cheap custom flip-flops!
This summer won't be just one more at the beach or the swimming pool, step on it and mark your style with our personalised flip-flops with photo. They are high quality rubber flip-flops, with non-slip soles so they're much safer and you won't suffer any unexpected fall.
They are available in different sizes, so you can choose the one that best suits you. But what will make them unique is the customisation you add to them. Choose your best photos, texts, messages or choose any of our pre-designed templates and adapt them minimally to your taste.
These are the sizes and measures of our flip-flops:
Size L (42/45): 29 cm. long and 11.3 cm. wide.
Size M (39/41): 27 cm. long and 10.6 cm. wide.
Size S (36/38): 25 cm. long and 9.6 cm. wide.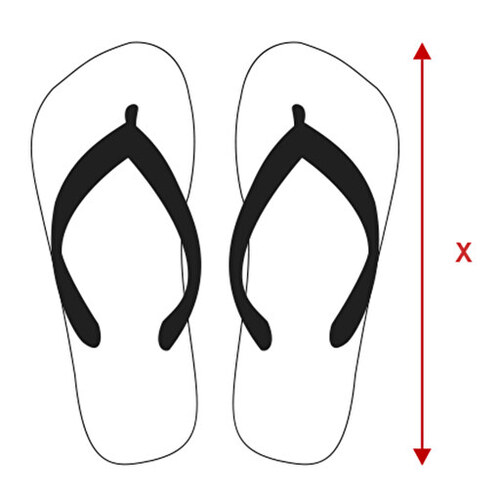 Personalised wedding flip-flops
In addition to being a must every summer between adults and children, can also be a good gift for event attendees, especially at weddings. You can create custom flip flops for your wedding creating a special design with your initials and date, for example.
We have quantity discounts, so the more equal units you order, the cheaper your order will be. Start creating the most original model for your wedding and surprise your guests so they won't stop dancing all night.