Personalised picnic blanket
Sizes: 140 cm (width) x 95 cm (length)
Without minimum quantity
Personalised textile top part. Material Oxford (100% polyester and waterproof).
Bottom made of waterproof material.
Rounded corners.
Includes harness with handle for easy storage and transport.
Personalised picnic blankets
The arrival of good weather is great news to organise excursions and meals in the countryside or in a park near you. Now you can make them more fun with our personalised picnic blankets. It is available in different sizes for you to choose the one that best suits your needs.
One of the advantages of our picnic blankets is that the bottom is made of waterproof material, so it will not pass through the moisture of the lawn. Also the corners are rounded allowing a better finish. But what makes them unique is that you can design the entire top face with photographs, text or the design you want.
The picnic blanket comes with a black harness with handles. You can store the blanket rolled up, fastened with the harness. And thanks to the handle, you can carry it comfortably. It is a very practical detail, and you can take your picnic blanket on excursions, trips, in the boot of the car... in a very comfortable way.
What to bring to a family picnic
The typical picnic has always been done in the field or in the park with a blanket. However, there are also picnic areas where you can have a good time. But we believe that it is much more special and original to do it in the wild and for it our blankets are an essential element to take a picnic.
Obviously, depending on the number of people attending you will need more or less food. But the important thing is to choose cold dishes that can be enjoyed outdoors and do not generate too much garbage.
The picnic kit par excellence is blankets, napkins, cutlery and, of course, glasses. You can also bring plates to distribute the food better and some decorative elements to give more atmosphere to the place. When you finish eating do not forget to pick up everything correctly and put the remains into a bin.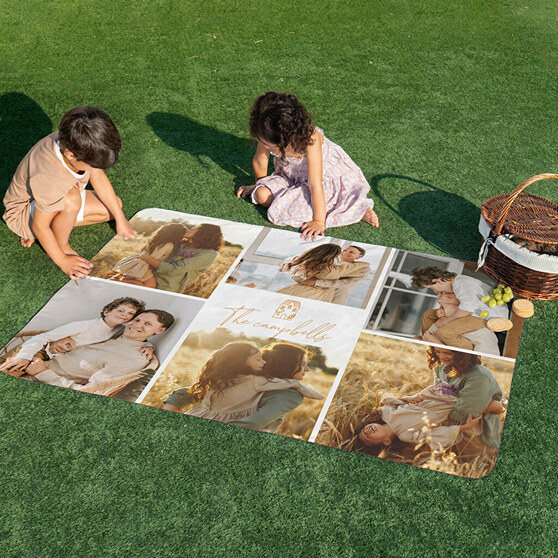 It's time for the games
Music and board games can also be a good entertainment to take to a picnic, because after lunch you may do activities together. But our blankets are not only good for food, they can also be personalised with fun games. For example: Twister, with boards of parchis and the game of the goose...
If you want to give a new use to our blankets, personalise them with a game and you will have a lot of fun.
Washing instructions
Maximum wash 30º
Do not centrifuge
Clean gently
No iron
Do not use bleach
Not suitable for tumble drying
All measurements of these textiles are approximate and may be affected by the image transfer process.