Personalised scented candle
Without minimum quantity
Vanilla scented candle.
Made of glass, with a wooden lid made of bamboo.
The lid is personalised by direct printing.

Personalised scented candles
Scented candles are an item that is becoming more and more fashionable and we want to make it as unique an item as possible. You can now personalise your scented candle to decorate any corner of your home or as an original and different gift for that person you have in mind right now.
You can personalise the bamboo lid of the candle with any of the designs we offer or personalise it from scratch with the idea that comes to mind. It is personalised by direct printing on the cap, so your design or image will be seen in colour, unlike with engravings. There is no minimum order, you can order from one personalised unit to as many as you like.
Our candle has a vanilla scent that will enchant anyone, its warmth will captivate the sense of smell so much that you will want to put one in every room of your house. It is made of glass, its lid is made of bamboo and you will receive it presented in a beautiful box with an eco design. We are sure you will love it.
Ways you'll benefit from scented candles
In recent years candles have changed a lot, they are no longer only used as they were in the past when the lights went out in the house for lighting, now they are used for many more things and especially the scented candles.
Candles are used as decorative objects in most homes, whether it being in the living room, in the bathroom or even in the bedrooms, because they provide a unique warmth. That dim light when you want to relax by having a nice bath or that moment when you feel like listening to music and disconnecting, at that moment you light a scented candle and it is as if the rest of the world disappears. You could say that scented candles do magic at that moment.
Think how important candles are in people's lives... With what item do we make a wish every year on our birthday? Exactly, with candles, a lit candle is like a beacon of light to guide our lives towards the right path and although these are not birthday candles, scented candles give us a warm, calm, relaxing atmosphere that few other items offer and their vanilla aroma also helps us to create the perfect atmosphere for that special occasion.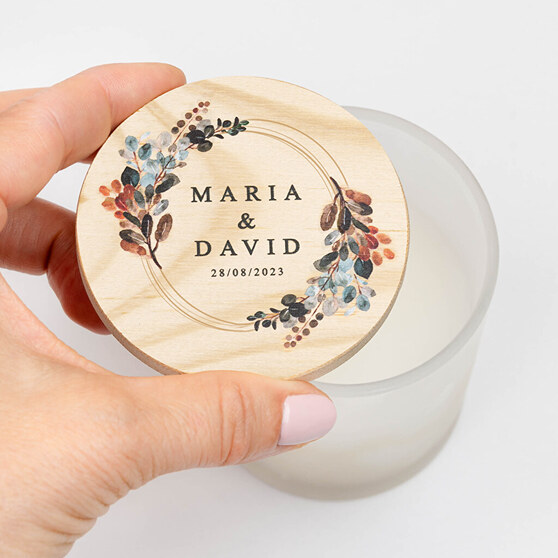 Personalised candles for christenings and other events
We all love to receive a gift at the events we attend and if it is also personalised, all the better, you know that those people have thought of you when you hold it in your hands. Customised scented candles are the perfect gift for weddings, christenings, communions and any event where you want to have a unique gift for your guests.
You can leave it on the table so that each guest knows where they are sitting because the candle has their name on it, or you can make it as an "open bar" of candles, so that everyone can choose one, the one they like the most, and take it home to enjoy its vanilla aroma whenever they want.
You can personalise the candles to suit your guests.
You can personalise them with your wedding logo, the name and date of the child taking communion or with a children's drawing and the date of the christening. Any design will look great because the candle itself is perfect, both its size and the original presentation in its little box with an eco design will make it the ideal gift for that special event.
Surprise your guests with a personalised scented candle!
Benefits of scented candles
Scented candles bring many benefits to the people who use them and if you stop to think about many moments in our lives we instinctively resort to them.
They help us to relax the mind, observe the flame of the fire, its shapes, its different colours... It is something that attracts the attention of our gaze and if we also accompany it with a vanilla aroma it will be the perfect complement for that day when we feel like disconnecting.
It is also very common to hear that candles clean the atmosphere, we attract positive energies and chase away negative energies, especially with light coloured candles like our personalised candles.
Candles are also often used to help improve concentration. When you have a time of stressful exams, or if the exams are around the corner, or any situation that overwhelms you too much... Take your scented candle, light it when you see that your ability to concentrate is dropping, give yourself a few minutes to relax and come back later, you will see that when you return you are much more relaxed and concentrated than before.
Candles also have the power to create an intimate atmosphere, who hasn't dreamt of a romantic candlelit dinner? When you are with that special person sparks fly, that moment is already perfect in itself, but if we also add the soft light of our scented candles we will create the perfect atmosphere for that special occasion.
They offer a sense of protection, as we said before, we are always looking for that light at the end of the tunnel, that lighthouse that illuminates our lives, so when we feel in the dark we can light our candle and let our feelings flow to invade us that feeling of protection and welfare that candles offer us.
And now don't miss the opportunity to personalise your scented candle with us and surprise that special person, yourself or your guests with the perfect gift.
Close your eyes, relax, take a deep breath and enjoy your personalised scented candle.
Important recommendations
Do not leave the candle burning without adult supervision.
Keep them away from children and pets.
Keep the candle away from flammable objects.