Personalised soaps, a unique product with a delightful scent
Our personalised soap is much more than just a bar of soap. It is a personalised experience that combines the freshness and delicacy of its calendula and chamomile scent with the possibility to express your creativity and style through personalisation. weighs 100 grams and is a truly special and conscious gift that will delight your senses and nourish your skin. Each bar is delivered in a beautiful off-white cotton bag, with a drawstring closure, giving a very elegant look when presented.
This soap has a distinctive scent of calendula and chamomile, known for their soothing, moisturising and restorative properties. The delicacy of this fragrance will envelop your senses in a cloud of softness and freshness, while its skin benefits will leave your hands feeling renewed and rejuvenated. Its vegan formula with no animal-derived ingredients, this product suitable for everyone, without compromising quality or ethical values. Furthermore, these products have not been tested on animals, promoting care and respect for all of them.
What really sets our personalised soap apart is the possibility to customise it to create a unique gift. You can personalise it with a special photo, a unique design, a touching message, a name or even your company logo. This makes it a perfect gift for any occasion, from birthdays and anniversaries to corporate events. It is especially suitable as a gift for wedding guests, where you can surprise your guests with a personalised and useful souvenir. You can offer a bar of soap with a picture of the newlywed couple, the date of the wedding or a thank you message. Every time your guests use this personalised soap, they will remember the special day they shared with you.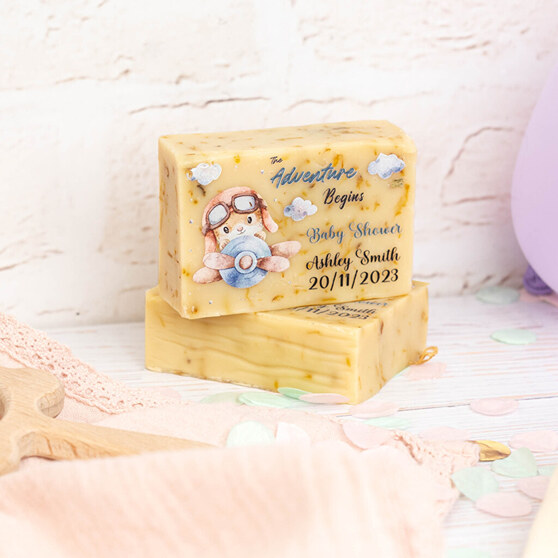 How to use
Apply the soap on wet hands, rub and rinse with water. Avoid the eye area. In case of contact with eyes, rinse with plenty of water. For topical use.
Ingredients
Olea europaea fruit oil, aqua, cocos nucifera oil, sodium hydroxide, butyrospermum parkii butter, cymbopogon citratus leaf oil, glycine soja oil, calendula officinalis extract, matricaria chamomilla extract, calendula officinallis flowers, citral, geraniol, d-limonene, linalol, eugenol, isoeugenol.
Origin and benefits of the use of hand soap
The origin of soap bars for hand washing can be traced back to ancient times. Throughout history, various civilisations have developed their own versions of soap based on oils and fats, for the purpose of maintaining hygiene and health. The importance of hand washing often lies in the prevention of disease and the elimination of germs and bacteria that can be spread through contact with everyday objects and other people.
Today, hand hygiene has become an essential practice to prevent the spread of infectious diseases, as was seen during the pandemic a few years ago. Regular hand washing with soap is an essential measure to protect your own health and that of those around you.