Personalised wooden milestone cards
Sizes: 12ø cm (width) x 0,4 cm (thickness)
Without minimum quantity
Includes 14 round poplar wood cards/discs.
Each card is 12 cm wide.
All discs can be personalised on one side.
Delivered with a cloth bag (not personalisable).
ID: #16749
Reviews with images




---

Personalised wooden milestone cards
How much babies change in their first year of life! Their first months are full of achievements and exciting new experiences. Do you remember their first smile and when they got their first tooth? Now you can keep all those memories in an original way thanks to our personalised birthday plaques. This gift is perfect to immortalise your child's growth month by month.
It is made up of 14 round cards 12 cm in diameter and 4 mm thick. They are made of poplar wood, a material that, as well as being ecological, has a spectacular effect when personalised. In addition, a cloth bag is included to store them in a practical and tidy way.
With these personalised milestone discs you will be able to photograph your baby during its growth and you will keep these beautiful memories in a unique way for the rest of its life with the images of him or her. When those first 12 unrepeatable months pass, it can become the perfect decorative element for their room, or even to organise their clothes by months. Feel free to match the outfit of your baby with the cards.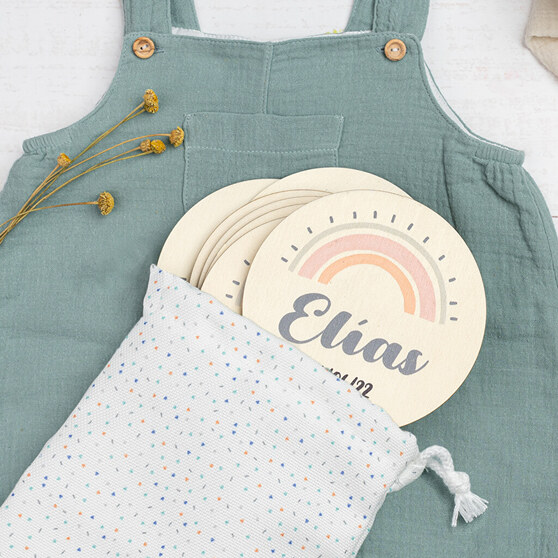 The perfect gift for newborns
If you don't know what to give a baby, you've come to the right place. The custom milestone discs are a very original gift that new parents will love, and you'll be sure that you come up with an original gift that no one else will be giving them.
The personalisation is very simple, you have several designs in which you can include the baby's name, date of birth, a touching phrase or even a photo.
Hasn't the baby been born yet? It's also a perfect gift for pregnant women, they can photograph their tummy month by month with these personalised pregnancy milestone cards.
Please note before ordering that as the plaques are made of natural wood, they may contain veins, lines and elements typical of wood.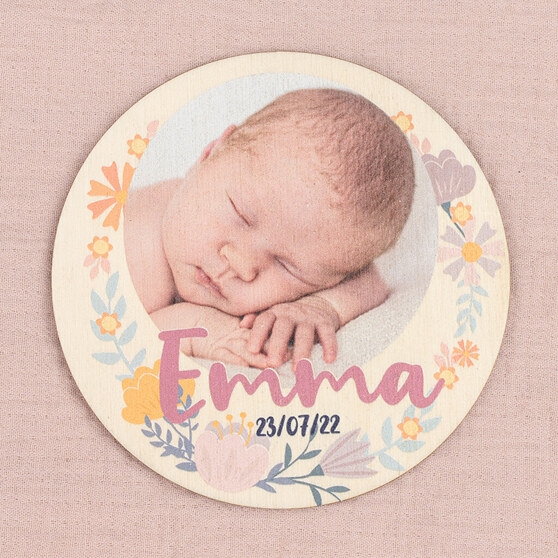 Tags of Wooden milestone cards