Personalised Bibs
There are 3 products available
Why choose our personalised bibs
Various models available: from classic rectangular bibs to triangular bandana bibs.
Bib sizes for children and adults: there are sizes for babies and children, and even large adult sizes.
Maximum quality: full-colour printing with great sharpness.
Machine washable: all models are machine washable and completely safe to do so.
Online editor: use our online editor without the need to download software, totally intuitive and easy.
How to make baby bibs
The arrival of the baby in the family must be carefully organized. For this, it is necessary to prepare all the clothes and the different accessories you may need. If you have to give a gift to a baby, newborn or a future mother, we recommend you our personalised bibs.
In this section, we have grouped our different customizable baby bibs. All are very pleasant and soft to the touch, for the most delicate skins. And, of course, in different materials and sizes for you to choose the one that best suits the little one. You can design them from scratch or with our pre-designed templates and you can choose up to the color of the trim or edge to match the design.
We are sure that it is a good gift, because they are going to use it many months. The fact that it is personalised guarantees that there is not going to be one just like the one you buy from another store. If you don't know how to make personalised bibs, don't worry, because our editor is very easy to use and in a matter of minutes you will be able to place your order.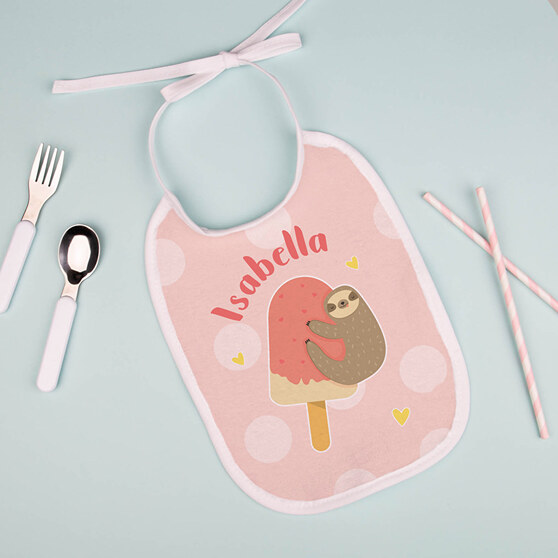 Which one to choose?
We are aware that it can be difficult to choose one. But you have to look at two aspects: the material and the closure. It is essential that you choose the one that you think will be most comfortable and practical for your baby. We explain in detail how each of our models differs:
Silicone bib: thanks to its material, it is much easier to clean. It is available in two colors and you can adjust it perfectly to the neck of your little one.
Bandana baby bib: we recommend this model especially for children. When babies drool, so this is especially comfortable for them and has a very soft touch.
Towel bib: is the classic always, but with the particularity of being able to design them completely to your liking. It is available in two different sizes and in up to five different colours the border and trim.
XL Bib: it is the largest in our catalogue and is suitable for both children and adults. Adults? Yes, they are also used in fun occasions such as bachelor parties, weddings or dinners with friends. They are made of polyester and are also available in different colours to choose from.
Of course, all of them can be designed with your favorite photos, a collage of images, cartoon designs... As you wish. Our photo bibs are designed so that you can adapt them as much as possible.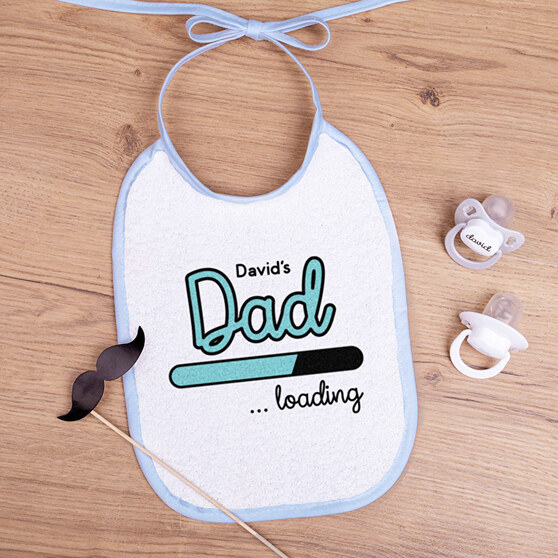 Bibs with name and photos
When it comes to creating and designing your bib, you are free to do what you like. The classic option could be to include a picture of an animal, or a cute illustration, and add the baby's name. Another more original choice would be to include a photo, either of the whole family, just the baby, the baby's face or a full-length picture (and again, adding the baby's name). Some people prefer to give it a funny touch by creating a hilarious bib, including a phrase such as "I still live with my parents", or "I come with no instructions".
You can also take inspiration from the trends of the year. For example, in recent years, designs and illustrations with unicorns, flamingos or avocados have become increasingly popular. We offer you free pre-designed templates on our website with all these types of designs, so you can choose the one you like the best, and you only have to change the baby's name, or add the date of birth, the name of the mother and father, or any other element you want to add.
Another common option is to reflect the style of the parents in the design of the bib. For example, if the mum or dad like rock musik, you can create a bib with a rock guitar, or the symbol of a legendary band, making it the perfect gift for those parents. The same goes for football dads, or for sporty mums, TV fans, geeks, etc.
In short, you can use the power of personalisation to create a unique and exclusive bib, designed especially for that baby or for those dads to whom you want to give a special surprise.
Decorate a bib for baby shower
Baby showers are increasingly fashionable parties among pregnant women. It is an informal meeting between friends and relatives in which the sex of the baby is announced. Sometimes it is a surprise even for the mother herself, it depends on the taste. On other occasions, it is known beforehand and it is a party to enjoy and give the little details to future parents.
If the parents do not yet know the sex of the baby, you can announce it with one of our bibs. It is a very special moment where the suspense is palpable. You can personalize it announcing the happy news and when they open it they will love it. They will also be able to use it when they will be born.