Personalised Mosaic Puzzle
Sizes: 26 cm (width) x 19 cm (length) x 1 cm (thickness)
Without minimum quantity
Customised on 1 side by direct printing.
LEGO Duplo bricks compatible parts.
Material: plastic.
Assemble a personalised puzzle made of interlocking blocks
Is it a puzzle? a jigsaw puzzle? a building game with blocks? a frame with a picture? The Mosaic Puzzle is… all of these things at the same time!
This product is unique and different. It consists of a set of white blocks, compatible with LEGO Duplo bricks, which can be fitted together on a green plate that you will receive with your order. The blocks are placed and fitted together, like a puzzle, in order to assemble the final photo or image. The puzzle is personalised, so you decide yourself which photo will be in the Mosaic Puzzle.
The pieces have 4 spaces, and the upper part is smooth, as this is where the personalised image that you have sent when creating your order will be printed. The pieces are made of very resistant plastic. And they are larger than the classic standard LEGO pieces. They are compatible with LEGO Duplo bricks, so they are the same size, suitable for small children to play with.
Possibilities of the Mosaic Puzzle
This original and curious gift has several different ways of use, which are:
Assemble a puzzle. You can play at assembling the puzzle, and the concept is very similar to assembling a classic puzzles. The difference is that you assemble a classic puzzle on a table, and in the Mosaic Puzzle, you will be placing the pieces on the plate, fitting each one in its place. This way, the puzzle will not move at any time, the pieces will remain fixed.
Invent creative games. This mosaic format of pieces can be very playful. You can not only add a photo to personalise the Mosaic Puzzle. You can also personalise it by putting a letter on each piece to form a word search and play games. And some of the pieces could be a child's face, to give it a more personal and fun touch. Or you can create games that allow you to draw different shapes, animals, objects... with the pieces. Be creative!
To play by combining with other blocks. The Mosaic Puzzle has pieces compatible with LEGO Duplo bricks. So, if you already have bricks of the same size, you can combine them, and create combined constructions. You can play as a family, or just the little ones, using the plate as a base to build houses, buildings, mountains... and you can finish off the work of art with the pieces containing the personalised photo.
Decorative photo frame. Just as in the bookcase in the living room you put picture frames with a photo inside, why not make it more original? The Mosaic Puzzle, once assembled, can be placed on its side as a decorative photo frame. It is ideal for children's rooms, as its style makes it a more childish frame. And whenever you want, you can take it apart, reassemble it, play with other blocks, etc.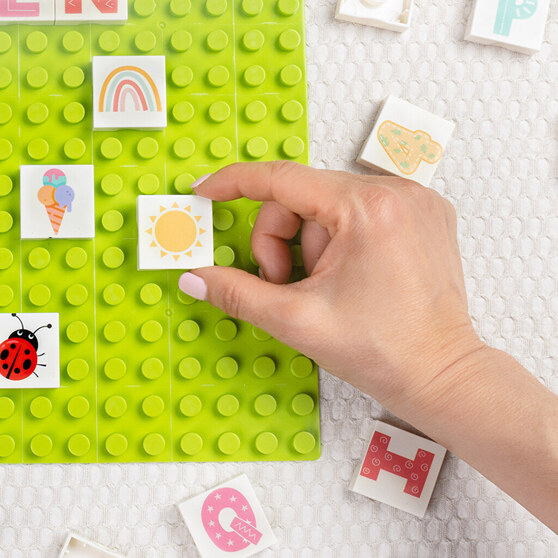 LEGO® is a trademark of The LEGO Group of Companies, which does not sponsor, authorise or endorse this site.