Personalised coloured water bottle 400 ml
Select an option: Coloured 400 ml
Sizes: 6,6ø (width) x 17,5 cm (length)
Without minimum quantity
Material: aluminium (single layer).
Not suitable for dishwasher and microwave.

Capacity: 400 ml.

Includes 1 nozzle (screw cap).

Aluminium water bottles personalised with photos
Plastic bottles, in this century? Forget about them and replace them with one of our personalised flasks. They are made of aluminium (single-layer), making them more resistant than other models made of other materials. Our personalised flasks have a fundamental difference: they have a screw cap, a practical carabiner, and one of them has an interchangeable cap with a straw (ideal for the little ones). As if all this wasn't enough, you can choose from several colours available. They are not dishwasher or microwave safe, so we recommend you wash them by hand!
And here's the best part: our bottles are fully customisable! You can customise them from scratch with your own designs, photos, drawings and/or texts, or you can use the pre-designed templates we offer you in our online editor. Don't worry, it's very intuitive and you won't find it difficult to edit, add or remove options to your liking. This way, your water bottle will be unique and original, different from all the others. This is ideal for the little ones, as there will be no room for confusion with those of their classmates, and they will be delighted to have a personalised water bottle with their photo, their name, their favourite cartoon or their favourite video game!
Water bottles: comfortable and useful
Staying hydrated is one of the things we must do on a daily basis, although there are many people who find it difficult to drink at least a litre of water a day. For this reason, it is always recommended to have a bottle of water next to you or always carry it with you so that you can drink at all times, so that you drink almost by inertia. At home it's easy, but what about when we're out walking, hiking, camping or camping?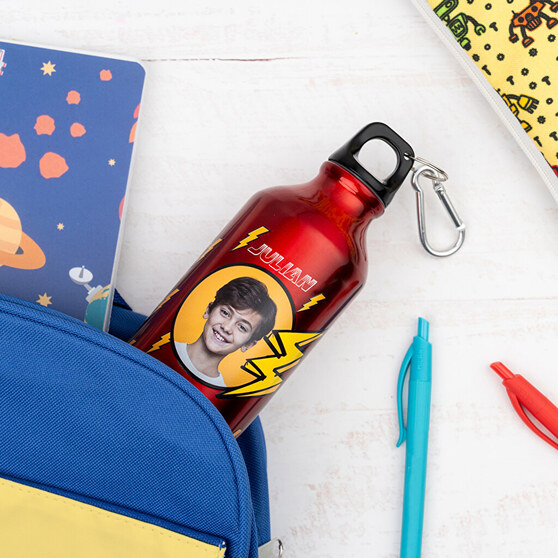 Personalised and reusable bottles and canteens are the best option for this, especially the latter if we want to have them close at hand: the metal carabiner that is incorporated in our water bottles will be your best friend to hang on your backpack, bag, belt loop or wherever you want. You won't have to worry about having to open and close your backpack every time you want to drink a little water, which is very useful when you're in the middle of the mountain! Nothing like a sports water bottle to keep up with you.
It's essential to have a water bottle with you on a daily basis, and our original water bottles, which come in different sizes and styles, are perfect for carrying in your bag or rucksack without being too bulky or heavy. As mentioned above, they also come with a convenient carabiner clip so you can carry them while walking the dog, hiking or climbing. They are ideal for children's camps, because of the size, the double cap and the personalisation. In itself, having the option of a straw cap makes it the perfect option for them, even if they are very young, as they can drink from it on their own without the risk of getting wet. A beautiful and useful water bottle, what more could you ask for?
What do you think of our customisable water bottles? There's sure to be a model and style that's perfect for you or for your children. Make your own water bottle today!