Personalised cake toppers
{{ dinamic_h1 }}
{{ article_price_promotion | currency }}
{{ article_price | currency }}
{{ article_price | currency }}
#{{ product_article_id }}
Without minimum quantity
Material: transparent methacrylate.
Personalised on one side.
Various shapes available.
Select an option: round cake topper



Hexagonal cake topper
€12.90

Personalised cake decorations
Decorate the sweetest moments of your life with our personalised cake toppers. With them you will put the icing on the cake in the best possible way. These fantastic transparent acrylic cake toppers will be the ideal addition to decorate your cakes and tarts. They are available in different shapes such as star, heart, hexagon and circle shapes. All of them can be personalised with your design.
There won't be a family event without a personalised cake topper, because any self-respecting sweet table has a personalised cake decoration to match it. You can design it to your liking, with texts, an image of your little one's favourite drawings, a photo of the bride and groom, the birthday boy/girl, or literally any other idea that comes to your mind.
Personalise the perfect cake topper
In this section you will find a lot of designs that are designed to make your cake topper stand out in a special way on your cake. Designs that you can modify very easily and quickly with our online editor to make it completely personalised.
If you don't find any design that fits what you had in mind, you can also create your personalised cake decorations from scratch. You can add names, upload photos, images and make a unique and special cake topper, perfect for the event to be celebrated.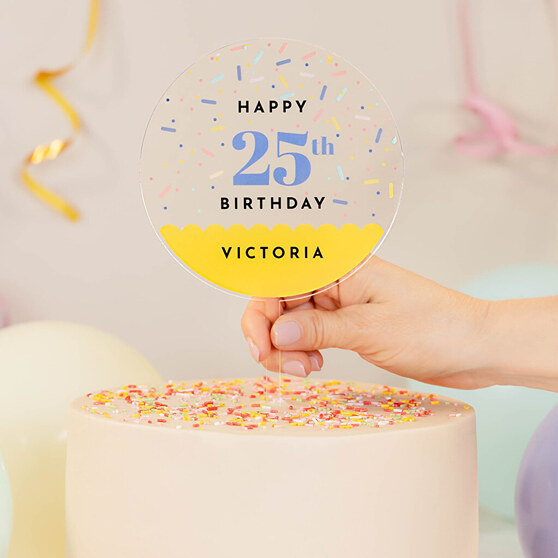 In recent years it has become very fashionable to decorate wedding cakes, with a phrase that refers to a motto, a favourite song, a hashtag or any phrase that motivates etc. It is a very important day and that deserves a personalised cake topper.
Special events require cakes with special cakes toppers
The first birthday of a baby is a very important moment, both for the baby itself and for its parents and closest relatives. It is at that moment when you are celebrating when you realise how quickly time has gone by and how much your baby has grown, and how much more independent he or she is becoming.
It's a very joyful moment when you see her/him growing up so happy and cheerful. And what better way to do it than by organising a birthday party where you can keep a beautiful memory, and of course in every good celebration there is a cake and in every good cake you can't miss a personalised cake topper.
Other ideas for using personalised cake toppers are for example at events where there are different tables and a sitting plan is organised, you can personalise one cake topper for each table, indicating the table number, name or theme, so that each guest knows where to sit.
Thousands of different options in a single product. Now all you have to do is let your imagination run wild and personalise the most beautiful cake topper you have ever imagined. We will take care of making your designs look perfect on the personalised cake decorations. And all that's left to do is... Enjoy!