Personalised square cushions
Sizes: 35 cm (width) x 35 cm (length)
Without minimum quantity
All the cushions include stuffing.
Total impression on both sides.
Material to choose from: streck Polyester, Satin, Panama Polyester.
Removable cover suitable for washing mashine.

Square cushions with photos
Give your home the touch it needs with our personalised square cushions with photos. You can take care of every detail and decide to the millimetre how you want it to be to get the most original and exclusive model. It is also available in different sizes, so you can choose the one that best suits your needs.
Customisation is the key factor, because with us you can transform your photographs, texts or favourite designs into the best possible motive. You can also choose the fabric and the colour of the zip from various shades, so you will get your cushion just the way you want it to be.
In our editor, it's very easy to personalise your cushion as you wish, and if that's not enough, we also provide you with various pre-designed templates. It is an essential decorative element and a recurring gift on occasions such as birthdays or anniversaries by personalising them with photo collages.
What differentiates us from other brands?
All our cushions are fully personalised, covering 100% of the surface of the cover with your design or photograph. Other brands leave blank margins around the design, but we go right down to the stitching and take care of every detail.
Personalisation is done on both sides, so no space will be left uncovered with your favourite personalisation. Decorate in style with us and opt for the best value for money, because with us customisation is very economical.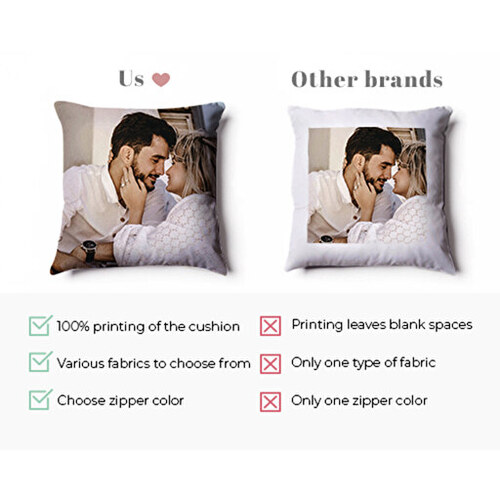 Difference between fabric types
When creating your personalised cushion, you can choose the material of your choice. We offer you 3 different types of fabric. All of them are
100% polyester
, but in different variations:
Polyester (streck)
Streck fabric is what we usually call simply "polyester", and is the most common and popular fabric. It allows a wide range of colours as well as a great fidelity to the design and a great definition.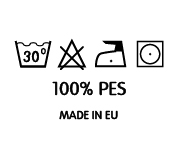 Panama
Panama fabric is a polyester variant that is characterised by a larger and more visible weave than other fabrics. This type of weave means that it loses very slightly definition and colour saturation, but instead, it gives a greater personality to the products that use it, giving a more artisanal, homely and homely feel.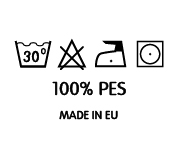 Satin
Satin fabric, also a polyester variant, is a fabric characterised by its soft feel and sheen, giving a more glamorous feel to the product. It also has a very good definition and colour gamut, as the sheen of the fabric makes the colours look more vivid.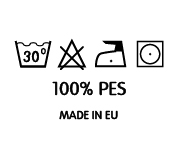 Washing instructions
Machine washable
Maximum washing temperature: 30°.
Do not bleach.
Iron on low heat.
Dryer safe. Tumble dry on low heat.
All measurements of these textile products are approximate and may be affected by the image transfer and manufacturing process.
Filling material
We include in the cushions the filling(the cushion itself) needed for each size, and these are the materials:
Fabric: TNT- non-woven fabric 40 gr./m2 - 100% polyester.
Filling: 100% polyester fibre; hollow, conjugated and silicone.
Quality guarantee
Textile products labelled with the OEKO-TEX® mark guarantee that all their components meet the required control criteria, including accessories such as rivets, buttons, zips, interlinings, etc. Textile products with the OEKO-TEX® quality seal have skin-friendly properties.