Personalised 500 ml. thermos
Select an option: Bottle 500 ml
Sizes: 7ø (width) x 24,5 cm (length)
Without minimum quantity
Double layer: keep warm and cold for hours.
Not suitable for dishwasher or microwave.

Capacity: 500 ml.

Material: stainless steel.

Double-layer personalised thermos flasks, ecological, and very practical
Useful personalised double-layer thermos that insulate your drink from the outside temperature, so that it stays hot or cold much longer than in a single-layer bottle or flask. And because it's so well protected, your thermos won't feel too warm even if your coffee or tea is freshly brewed! Choose the thermos that best suits you among all the ones we offer, there's sure to be one that's perfect for you!
And if there is something better than a conventional thermos, it is personalised thermos. If you are one of those people who like to own unique objects, or love to give original and useful products as gifts, you are in the perfect place. Our thermos flasks can be personalised with your favourite photo or photos, texts, names, drawings... Or, if you prefer, you can choose one of our pre-designed templates and edit it to your liking. The thermos are not suitable for dishwasher or microwave due to the material. Wash them by hand to keep them as beautiful as the first day.
Isothermal thermo mugs and flasks in different sizes
The virtues of thermos flasks are well known: they are perfect for keeping your drink hot or cold for a long time, making them ideal to take with you when you have a long day ahead of you, whether at work or outdoors. We also have different types of thermos mugs and thermos flasks, with different sizes and capacities, so you can choose the one that suits your day to day life!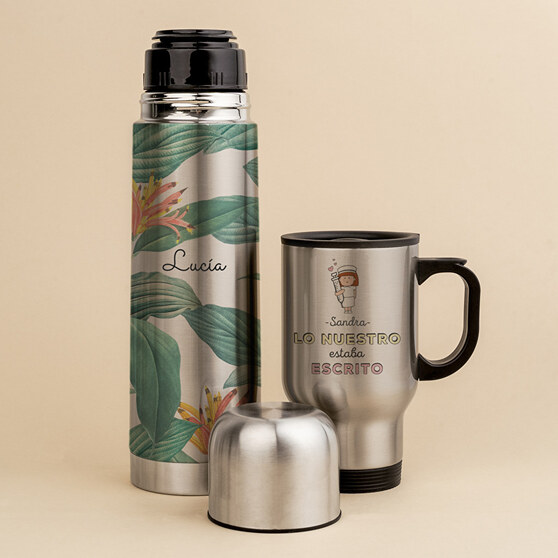 It doesn't matter if you work in an office, a factory or outdoors: whether it's hot or cold, a thermo can instantly change your mood! Those summer afternoons when all you can think about is a cool cup of tea, or those winter mornings when you wish you had hot coffee at your disposal? Now you'll be able to drink hot coffee at any time!
And what can we say about how useful they are when you're going to be out all day on a walk, sightseeing or excursion? With a personalised thermos, as well as keeping you hydrated in the best way and at the best temperature, you'll feel like the most original person in your family or group of friends! Not everyone has a personalised coffee thermos with their name or an exclusive design for themselves.
Environmentally sustainable thermoses
Another advantage of using one of these thermoses is that you will reduce the use of disposable plastic bottles. Using conventional plastic bottles means that we are continually throwing plastic away.
Instead, by using thermoses, you are using environmentally sustainable products. You will reuse them continuously: just rinse them after each use (with soap and water, or just water), and you can use the same thermos again, without generating plastic waste.
Differences between double-layer and single-layer flasks
A key feature of our thermoses is that they are double-layered. If you want flasks that keep your drinks at the same temperature for hours, whether they are cold drinks (water, soft drinks, juice...) or hot drinks (coffee, tea...), you have to use double-layer thermos mugs and bottles.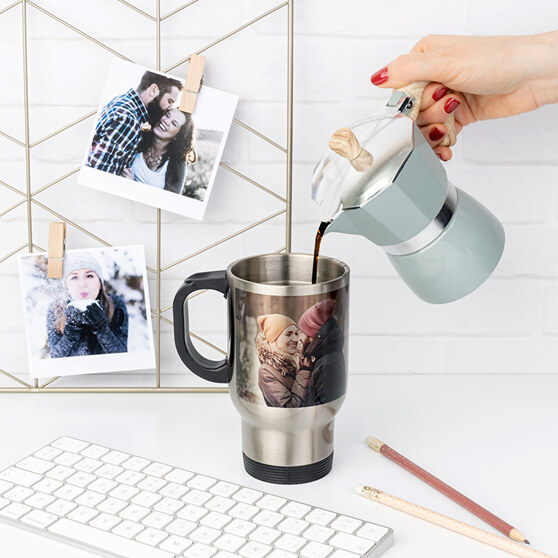 And what does this "double-layer" mean and what is the difference with single-layer flasks? Very simple: a double-layer flask consists of a bottle inside a slightly larger bottle, which is then sealed together. Thus, the inner part is always insulated from the outside, covered by the outer part. That's why you don't get burned or feel very cold when you pick them up. And that's why the liquid stays inside for many hours at the same temperature at which you put it in, whether it's very cold or very hot.
Single-layer bottles, on the other hand, are, as the name suggests, a single layer in direct contact with the outside. These are suitable for cold drinks (hot drinks would soon get cold). And also, cold drinks last less hours than in a double-layer flask, so they are suitable only if the drink is to be consumed shortly after it has been put in.