Personalised necklaces
There are 11 products available
Engraved steel necklaces
There are gifts that are more original than others. However, few gifts represent love as much as personalised pendants and necklaces. A pendant, necklace locket or medal with an engraved photo is a romantic gift that shows you love your sweetheart or wife very much. Of course, it can also be a special gift for your mother, grandmother, friend, etc.
On this page you can personalise an engraved necklace with a name, initials or even a photograph. Whatever you choose, the design will be engraved directly on the pendant medal or locket.
You can choose from several different shapes: the classic round pendants (also called "engraved medals"), rectangular, elongated, shaped like a girl or boy, and even romantic heart-shaped engraved pendants, a perfect gift for anniversaries, Valentine's Day or simply as a little surprise for your partner.
The most popular option is to personalise the pendant with a name or special date. However, you can also choose a photograph which, thanks to the precision of laser engraving, will be perfectly engraved on the surface.
engraved pendants are not only a perfect gift for lovers and couples. It is also a perfect gift for a mother, as you can choose to make a necklace with the children's name or their date of birth. A son or daughter is "the most important thing" in any mother or father's life, which makes pendants with the children's photo or names a sure hit. Besides, it's also a gift that will delight and be treasured for a lifetime.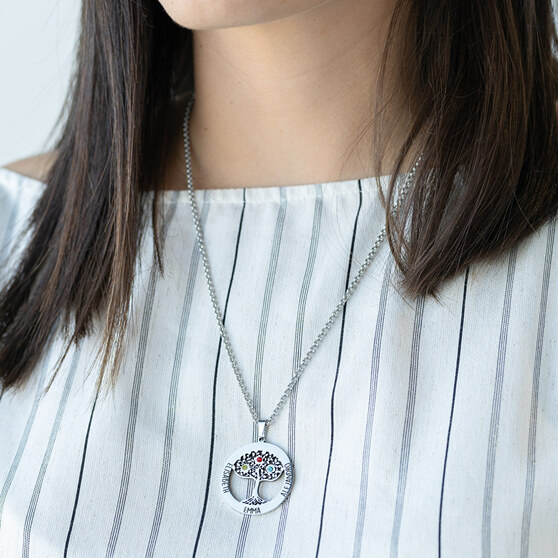 Original pendant
In addition to the classic pendants with the most standardised shapes, there are also other more original necklaces and pendants. We would like to highlight our pendants with aroma. These are pendants shaped like a small box that can be opened. Inside there is a small sponge on which you can add a few drops of perfume. It's a perfect gift for someone who loves to spritz themselves with perfume. You can add a few drops of the person's favourite perfume before giving it as a gift. Remember, you can engrave text on it too, making it an even more special gift with a unique aroma.
Our "Tree of Life" pendant is also a great gift to highlight. It is a symbol with a special meaning. The trunk symbolises the person's ageing along with those he/she holds dear. The branches symbolise the different paths we follow in life, depending on the decisions we make at any given time. This pendant also has colourful inlays.
Last but not least, we highlight pendants that feature medals in the shape of a girl or boy and are ideal for those looking for pendants with children's names engraved on the steel surface.
What's the name of a pendant with a photo inside
Pendants with photos inside are also known as a locket. In its original meaning, a locket was a pendant in the form of a small box in which a small lock of hair from a daughter, son or another special person was kept so that they could always be carried with them. Today, this type of gift is less popular, but there is still the concept of personalised photo lockets, which is another way of saying personalised pendant with a photo engraved on the necklace or locket.