Personalised door hangers
Sizes: 9 cm (width) x 21 cm (length) x 0,3 cm (thickness)
Without minimum quantity
Personalised on 1 side.
With hook to hang on the knob.

Personalised door hanger
Our bedroom is like our comfort zone, where we rest after an intense day, whether at work, travelling or in our everyday life. One of the favourite moments for many people is the moment to enter the room, get comfortable, close your eyes and rest, either sleeping or listening to some quiet music. And we don't want anyone to disturb your rest. That's why we have the most beautiful new personalised door hangers you can find.
They are perfectly designed so you can easily hang them on any doorknob. You can choose the one you like the most, if you like something warmer, the wooden door hanger will be your favourite option, if you like something with a more modern and different touch then the ideal one for you will be the methacrylate door hanger.
Both are personalised on one side and you can choose from an infinite number of designs or create your own. Put a personalised hanger on the door of every room in the house that represents the personality of the person who lives there.
This type of door hangers are always used in hotels, to indicate that you need to rest or that you want to have a little privacy without anyone interrupting you. From now on you won't need to leave the house to use them, the personalised door hanger has arrived in your home to make your life easier, more comfortable and practical.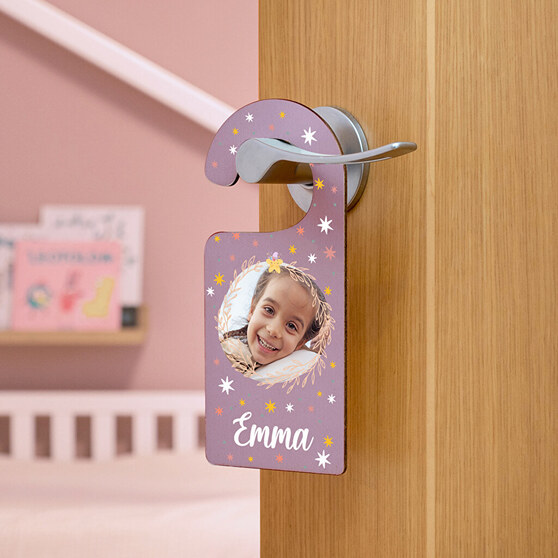 Personalise the perfect door hanger for your doors
In this section you will find lots of designs that you can modify to make them perfect for your new personalised door hanger. Add photos, create funny texts, personalise it with your name or your kids' names or with the classic phrase "I need to sleep, don't disturb". But, if among all the possibilities you have on our website, you do not find a design that fits 100% you can also customise your doorknob hanger to your liking very easily and quickly with our online editor.
Give a special touch to your room or that of any member of the house in the most original and fun way from the door. No more interruptions or intermittent breaks, now our sleep, relaxation or even study time will be more relaxed and non stressful than ever before.
Give your bedroom door a special style with your new door hanger
It is normal to want to be comfortable in the bedroom. We want to feel protected and comfortable, because we spend a lot of time in our bedroom. It is the area where we have more privacy. With the new personalised doorknob hangers there will be no one to disturb you.
It's even perfect when you have several children and each one has their own room. It is a simple way, without having to mark the doors with stickers of any kind, to mark which is the room of each one, they love it, it is like they feel that it belongs to them in a special way.
It is also ideal to give as a gift and have a detail with the little ones of the house or with the not so little ones, you can choose to customise a design, either in wood or in methacrylate with their favourite drawings, with a special phrase, with their name or with a photo of them. This personalised door hanger will surprise anyone who sees it.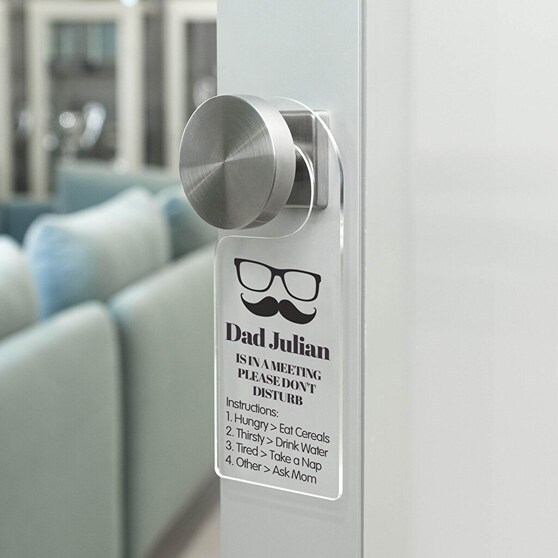 Now all you have to do is think about who you want to give it to or if you have already realised that you need a few at home and let your imagination run wild to create a unique personalised door hanger. As it is custom made to measure, no two will be the same and that makes it even more special.
Create the perfect design for yourself or as a gift and we'll take care of the rest. The world of personalisation at your fingertips in just a few clicks.