Sizes: 1,4ø (width) x 40,5 cm (length)
Without minimum quantity
2 drumsticks, model A5.
Material: walnut wood (hickory).
Personalisation method: engraving.
ID: #16973
Reviews with images



---

Engraved drumsticks
If you are looking for an original and useful gift for a drummer who plays the drums, whether a friend or a family member, the engraved drumsticks that we offer at Wanapix are the right choice. These personalised drumsticks made of hickory wood, from the Dynabeat series and model 5A, will delight any drum lover. They are engraved, so whatever you want to put on the drumsticks will remain intact forever: name, text, logo of a rock band, phrase, initials, drawing... The drumsticks will be designed for that special person!
Exceptional drumsticks
The 5A drumsticks are the most used by drummers of different styles, they are equipped with an Acorn and a natural finish. The wood used for them is hickory, chosen for its durability, weight and flexibility; for all this and for its density and feel, this wood is preferred by most musicians.
Moreover, the Dynabeat series is manufactured in the same place and with the same machinery with which the Wincent brand (Sweden, 1992) conceives its drumsticks, so it is a product of excellent quality.
In short, these personalised drumsticks are not just a nice gift to have on display and not to be used out of fear of damaging it: it is a product that has undergone stringent quality controls and has been manufactured by a company dedicated to tools for musicians. At Wanapix we take care to choose products that we are proud of!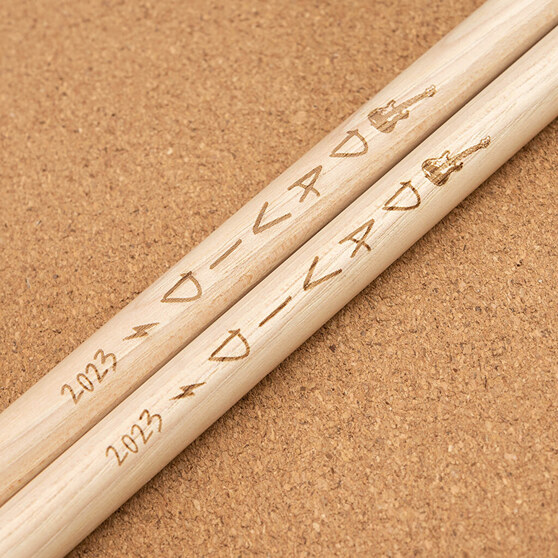 The ideal gift for drummers
Everyone has a music lover close to them, and there's no better way to get the right gift than to give them something they can use in their day-to-day life as a musician. Personalised engraved drumsticks are perfect for events such as Mother's Day, Father's Day, birthdays, anniversaries, Secret Santa or simply because you feel like giving a unique and special gift to that person who enjoys percussion.
This is a gift that is designed to surprise: useful, beautiful, with an impeccable finish and exceptional quality. Try adding the name of the lucky recipient of the drumsticks, or maybe you prefer to write their initials. Their nickname, their band, a phrase that represents them... there are as many possibilities as you can imagine! Choose the typography and design you like the most, and let everyone know whose sticks they are!
With these high quality, personalised wooden drumsticks, you'll make the gift recipient feel as powerful on the drums as Keith Moon, Ringo Starr, Dave Grohl or Meg White.