Personalised iron on labels for clothes
Sizes: 9 cm (width) x 13 cm (length)
Without minimum quantity
Material: twill weave (35% cotton, 65% polyester). Thickness: 190/195 gr/m².
Thermo-adhesive: iron on in approximately 30-45 seconds.
Place a cotton cloth between the iron and the patch before ironing.
Suitable for washing machine and tumble dryer.
ID: #16880
Reviews with images


---

Personalised iron on labels for clothes
Heat-sensitive iron on labels are a clothing accessory that has many functions and uses. These iron on labels fully adhere to clothing using a normal household iron. Just apply the iron firmly over the entire surface of the label, on the desired fabric, and the label will be fully fixed. Before ironing, you should place a cotton cloth between the label and the iron, to avoid burning the patch and to protect it when ironing.
We have iron on labels in different shapes and sizes, but all of them have the same characteristic: they are personalised labels. When you place your order, you can add any photo, image, name, text, logo, shield, phrase, etc. We have several pre-designed templates so you can choose the one you like the most and edit it with the changes you need. Or, if you want a 100% custom design from scratch, you can create your labels to your liking without using templates.
The iron on labels, once applied, are perfectly resistant to machine washing and tumble drying (as long as the garment itself is washing machine and tumble dryer safe, of course).
How to iron the heat-sensitive labels on
Place the label on the desired spot.
Place a cotton cloth between the iron and the iron on label. Be careful with delicate garments.
Pass the iron over the label for 30 to 45 seconds.
Once the label is fixed, iron on the reverse side for 30 to 45 seconds.
Do not use the garment until it is completely cool.
If it has not adhered well, give the iron more heat.
Do not dry clean.
To remove, re-apply the iron at "cotton" temperature.
We do not recommend steam ironing.
What are the uses of customised iron on labels?
Customisable clothing labels can be used in a variety of contexts and settings:
Children's iron on labels for children's clothing
It is possible that this is the first use that comes to mind, whether it is thinking of our childhood, with those patched trousers that our mums used to make us wear after having cut a hole in the knee area, playing in the park or at school. Now, with our own children, these situations keep repeating themselves, and with these iron on labels you can cover those areas with holes.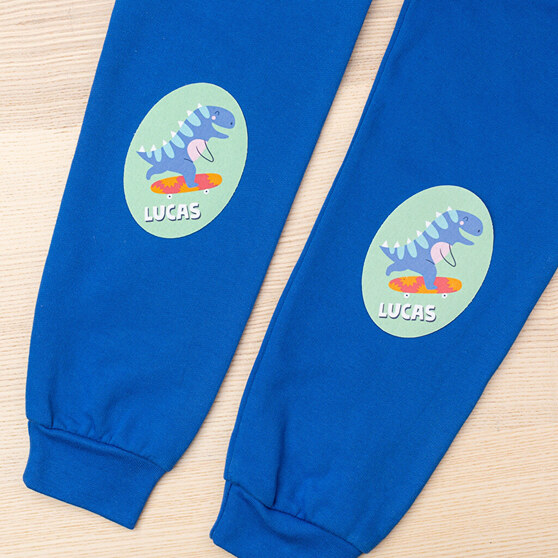 The best thing is that they are 100% customisable, so you can create iron on labels that completely match the garment to be repaired. They should have the same colour pattern, or one that matches well. Or you can let the little one choose any design for their label: their favourite cartoon character, their favourite animal, etc. In just a few seconds, with an iron at home, you can attach the label to the trousers and cover the hole securely.
Sports team badges
One of the label shapes we have available is the shield shape. This is ideal for sports teams of any kind: football teams, basketball, handball, hockey, etc. You can print your club crest on these customised iron on labels, and attach them to the shirts of all players.
The colours of the crest will be fully respected and will be clearly visible. And the team shirts will look very professional and elegant.
Work and professional clothing
For companies, offices, security guards, or any kind of employees. The iron on labels can be created with your company logo or name and heat affixed to your T-shirt, jacket, shirt or work waistcoat. This gives a much more professional and corporate image to the work clothes of all employees of the same company.
Logos can be used to identify companies, corporations, schools, universities, associations, clubs... and being able to create labels with these logos is very useful to reinforce the feeling of belonging to the same group.
For fashion and aesthetics
Iron on labels are also in great demand simply as an aesthetic complement to decorate clothes, backpacks, sports bags, etc. For example, a rectangular label can be used to create a label with the flag of any country, movement, collective... and then the label can be attached to the clothing or textile accessory of one's choice.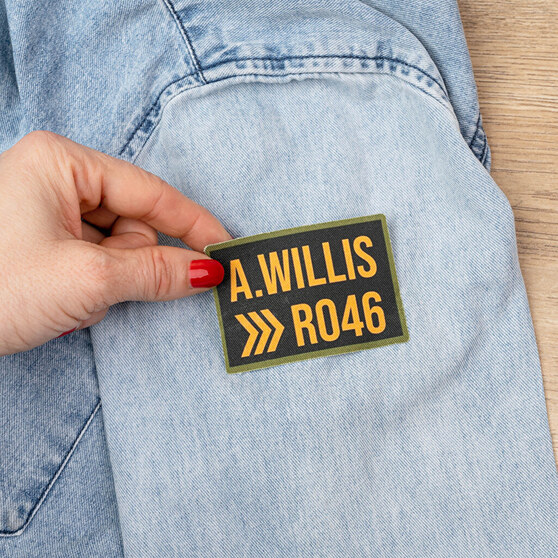 You can also create iron on labels with logos of rock bands, films, car brands... in short, any design or image you want. The label can then be placed, for example, on the sleeve of a jacket, or decorating a waistcoat that is full of labels.
You can create any custom label for your team's bib, jacket, sweatshirt, trousers, backpack, or any textile garment for that matter.
On which garments can I use the custom iron on labels?
The labels can be applied on any garment or textile product that has smooth areas where the patches can be fixed. T-shirts, sweatshirts, trousers, jackets, sweatshirts, shirts, jackets, backpacks, sports bags, caps, etc.
When ironing the label, place a protective sheet between the garment with the label and the iron. This way, you don't have to iron directly on the garment and the label, but you will iron on this sheet of material resistant to the direct heat of the iron.
Customised labels for wholesale and private customers
Our specialised iron on label manufacturing and printing machinery allows us to supply both professionals and private individuals. In the case of private individuals, it is possible to purchase iron on labels starting from just 1 unit: there is no minimum order requirement. For professionals and companies, on the other hand, there are quantity discounts. So the more identical units of the same label, the cheaper each unit will be.
Moreover, as we are machines created exclusively for the manufacture of this type of thermo-adhesive labels, we ensure the best possible quality, colour sharpness, resistance and results.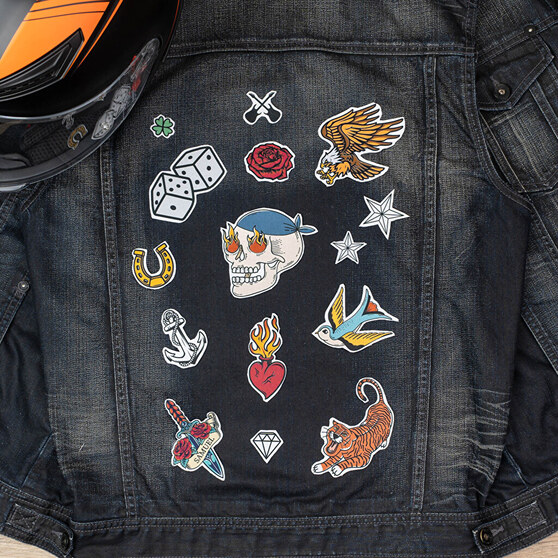 Tags of Iron on labels for clothes