Personalised luggage tags
Select an option: Plastic
Sizes: 4,4 cm (width) x 8,8 cm (length) x 0,5 cm (thickness)
Without minimum quantity
Tags for suitcases, luggages or backpacks.
Add your name, phone, designs, etc.
Black PVC strap.

Material: ChromaLuxe® reinforced plastic label.

Personalised on both sides.

ID: #2062
Reviews with images







---

Personalised luggage tags
When travelling don't forget to label all your luggage with personalised luggage tags. They are made of resistant materials (you have different materials to choose from) and have a buckle fastening; so you can easily attach them to your suitcases, bags and backpacks.
These personalised luggage tags can be designed to your liking with all your data and choosing a nice design.. They are a must-have for adding your details so that they are always visible so that, in case of loss, you can retrieve all your belongings.
Although they are more common for suitcases, they are also ideal for small children's backpacks with their details and class so that they can be identified. And not only can they be used to identify suitcases: they can also be a purely decorative accessory, to give an original touch to your suitcase or backpack.
Create your own personalised luggage tags with your details
Luggage tags are a very useful tool to identify and locate our suitcase in case of loss or confusion at the airport or station. As well as making it easier to locate your suitcase, luggage tags also allow you to personalise and decorate your suitcase according to your own taste and style.
One of the main advantages of using luggage tags is that they allow us to clearly and accurately identify who the owner of the suitcase is. Many times, at the airport or at the station, there are many suitcases that look similar to each other and it is easy to confuse one with another. By having our personal details on the label, we can ensure that our suitcase is returned to us if it is lost or confused with another.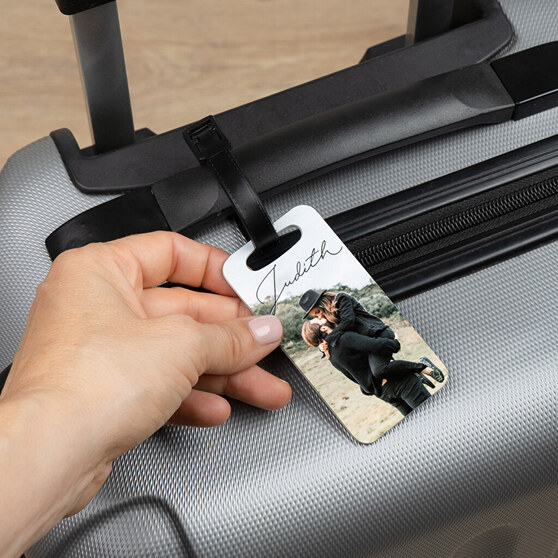 Another advantage of using luggage tags is that they allow us to personalise our suitcase according to our taste and style. Many times, the suitcases we buy are very similar to each other and it is easy to confuse ours with another one. By having a personalised luggage taf, we can differentiate our suitcase from the others and make it unique and personal. In addition, this allows us to add a touch of personality to our suitcase and make it more attractive and original.